Marketing
2017 Marketing Grad Lands Prestigious Sales Fellowship
---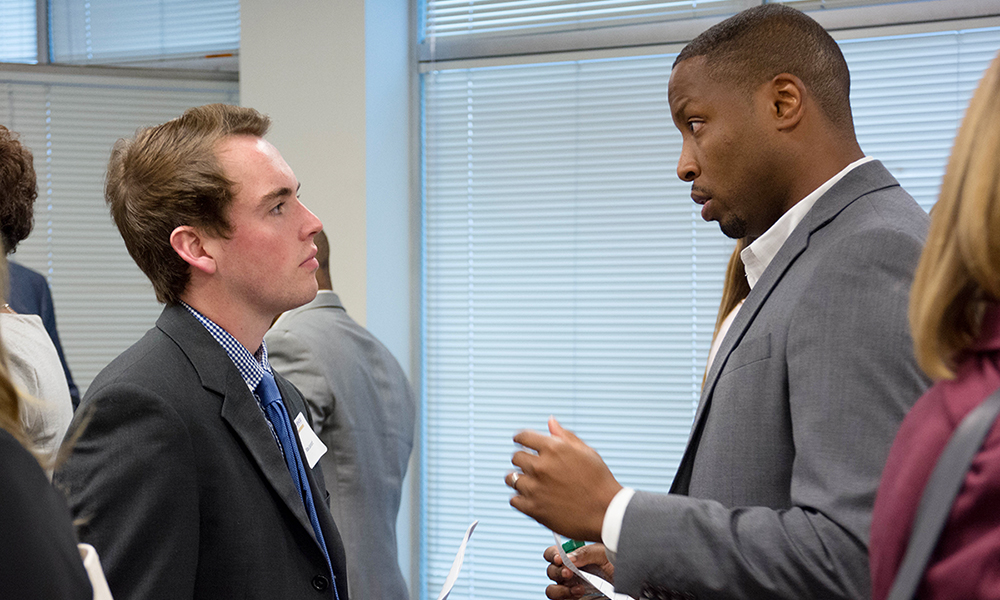 SUMMARY: JMU graduate Max Leonard, '17, was accepted into Bowery Capital's inaugural Sales Fellowship Program for the summer.
---
Sometimes in sales, perseverance pays off. Pressing on through a long application process, 2017 JMU graduate Max Leonard (pictured, above, left) landed a dream position in the inaugural Sales Fellowship Program sponsored by Bowery Capital, a $100 million venture capital fund with offices in New York City and San Francisco. The program connects college students to leading venture-backed software firms.
A regular competitor in the JMU Internal Sales Competition, Leonard already is accomplished at closing deals. This experience, coupled with Leonard's involvement in the Professional Sales Club and his coursework in professional sales, positioned the marketing major for this opportunity. Leonard joins fellows from the University of Maryland, Boston College, Columbia and Villanova universities, and the University of Michigan. The program, which involves companies such as CloserIQ, DigitalOcean, DojoMojo and SwiftShift, runs from June 5 to August 4.
"Allowing Max and other marketing majors these types of engagement opportunities to put their learning into practice takes the collaborative effort of the whole department," says Andy Wood, academic unit head of the Department of Marketing. "That a wonderful career opportunity is combined with student learning is a fantastic outcome."
The Professional Sales Club is part of the Center for Professional Sales, an important effort in the JMU vision to be "national model for the engaged university."
Congratulations and good luck to Max Leonard!
Published: Monday, June 12, 2017
Last Updated: Monday, June 12, 2017