Computer Information Systems
ITERA Case Competition 2017
---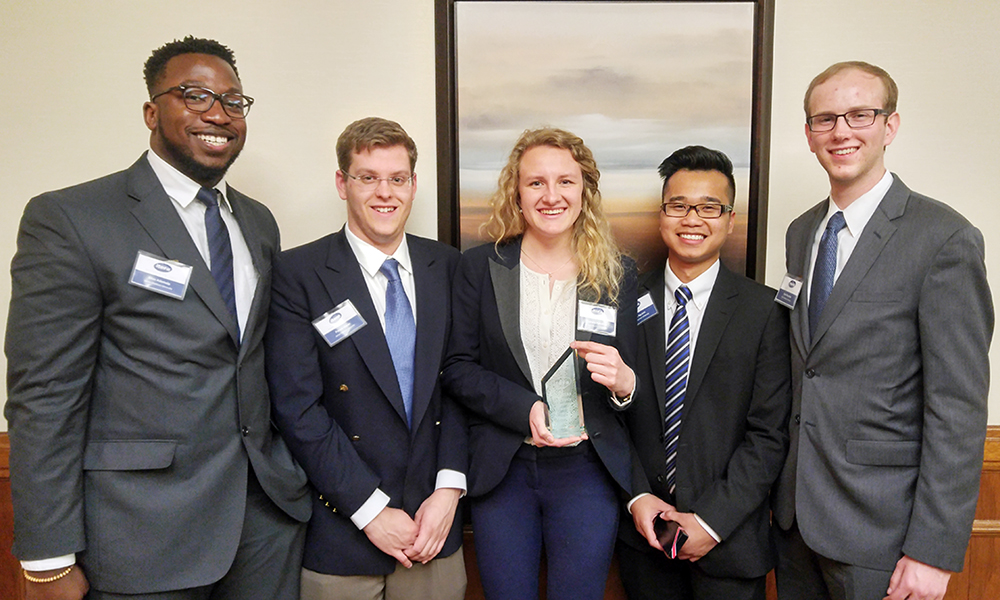 SUMMARY: JMU's CIS team took second place in the the final round of ITERA's 2017 Case Study Competition.
---
A team of Computer Information Systems (CIS) majors placed second in the final round of ITERA's 2017 Case Study Competition, facing opponents (many of them graduate students) from Murray State University, Ohio University and Ball State University. The competition, which engages students in a months-long effort to solve a real-world telecommunications problem, took place April 7-9 in Nashville.
Representing JMU were team members Tamara Matveeva, Quan Xuan Nguyen,  Silas Ademola, Sean Moynihan and Patrick Moran. They were coached by CIS faculty members Harry Reif and Jim Jewett, who also presented a session on "Enhancing Introductory Telecommunications Instruction Through the Use of Labwork" with students Michael Melton and Anthony Jewett
For this year's competition, the case study centered around improving health care delivery by allowing patients to bring all of their medical history together for all of the providers involved in their care. The student teams worked to develop a technical proposal for a system that would securely manage the sharing of patient healthcare records across medical facilities such as hospitals, clinics, doctor's offices and pharmacies on an as-requested basis. 
For Matveeva, a senior double majoring in CIS and biology, participating in the competition helped her sharpen her presentation and time management skills. She also enjoyed the opportunity to network with industry leaders while learning about emerging technologies and the latest advances in the field.
"I've gained a great experience in presenting to a big group of people that are very knowledgeable about the field of computer information systems - a majority of the conference attendees had doctoral degrees," Matveeva says. "These types of competitions are great places to network with professionals and make new friends.
Published: Wednesday, April 19, 2017
Last Updated: Wednesday, April 19, 2017