News
Cultivating the Entrepreneur Spirit
---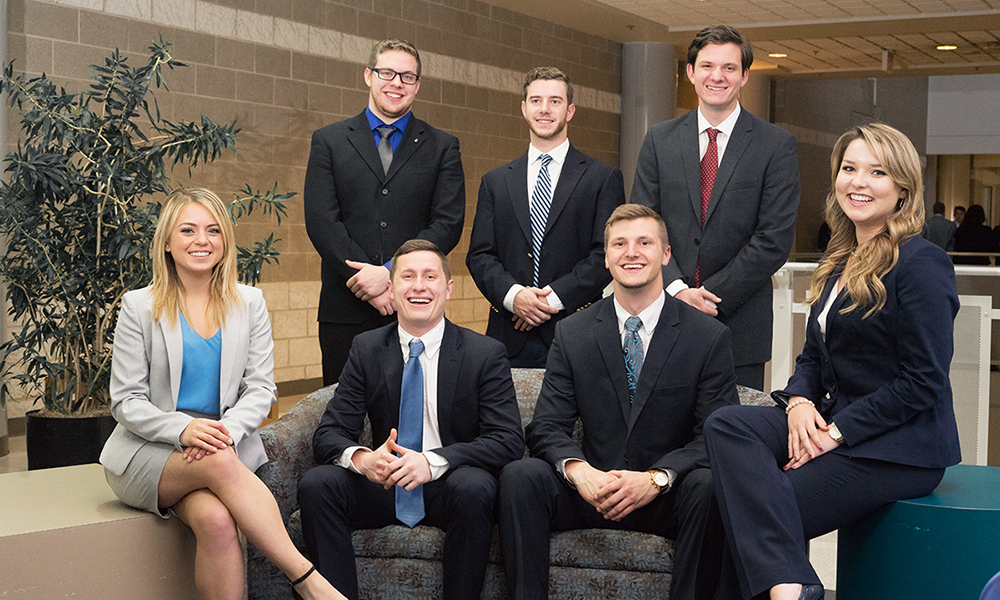 SUMMARY: Team Infuzed takes first place at the 2017 Jackson-Rainey Business Plan Competition by demonstrating savvy business skills developed in the COB 300 course, a hallmark of JMU's BBA curriculum.
---
Team Infuzed didn't need the luck of the Irish to win the 15th annual Jackson-Rainey Business Plan Competition on St. Patrick's Day. Instead, the seven College of Business (CoB) students relied on business skills developed in the COB 300 course to pitch their dream business, Infuzed - a manufacturing company specializing in creating organic water enhancers. The team, comprising juniors Connor Bryant, Josh Dantzler, Freddie Harris, Carter Lawhorn, Isabelle Strasser and Haley Yates, and senior Andrew Peabody, will split a $5,500 scholarship award.
The business plan competition was the final rite of passage for 37 students, who had taken one of last year's three sections of COB 300. The required, 12-credit course--which integrates the fundamentals of finance, management, marketing and operations--is designed to develop entrepreneurs and business leaders as students apply academic concepts to real-world scenarios. These students, comprising six teams, survived several rounds of judging more than 100 business plans created by their peers for the course.
This year's prizes and scholarships totaled over $25,000, generously provided by JMU graduates and former Executive Advisory Council members Wayne Jackson, Class of '85, and Don Rainey, Class of '82. In addition to the first-place winners, this year's proposed businesses were: FloodSafe LLC, a company that manufactures and sells waterproof bags that protect furniture and valuables against water damage (2nd place); SerenityShirt, a weighted sweatshirt that aims to provide comfort to those with a wide spectrum of health issues (3rd place); TreeTop LLC, a manufacturer of BabyPak, a portable heating and cooling device for infant milk, for on-the-go parents (4th place); Sensory Security Systems, a manufacturer and marketer biometric door knobs that are available at low cost for use within consumer's homes (5th place); and GreenBags LLC, a manufacturer of 100 percent biodegradable snack/chip bags (6th place). 
Haley Yates, a member of the winning team, received the Ferguson Top Female Leader Award, made possible by a gift from former business plan competition participant, Katherine Ferguson, Class of '04.  Yates also was one of five MVP award recipients, along with Jake Medvene (FloodSafe), Sonam Gurbuxani (SerenityShirt), Rob Farrell (Treetop) and Seung-Hwan Chang (Sensory Security Systems). Other recognitions included: the Accenture Innovation Award for the best idea to FloodSafe LLC, and the Team Award to Serenity Shirt.
Beyond the opportunity to win cash prizes and scholarships, the Jackson-Rainey Business Plan Competition provides students with professional experience in a setting that resembles a venture capital fair, with aspiring entrepreneurs pitching ideas to potential investors. Students develop poise and confidence while gaining valuable coaching and constructive feedback from seasoned business leaders.
 "COB 300 is an amazing experience that really sets JMU students apart," says Yates, who aspires to move to New York City, earn a master's degree and work for a large media corporation. "The entire process taught me how to work effectively in a group, stay organized, and manage my time better. The competition gave me insight into what pitching to investors would actually be like. Overall, this experience has caused me to grow as a professional a lot quicker than students at other universities have the opportunity to do."
2017 Competing Teams:
1st Place - Infuzed
Connor Bryant, Josh Dantzler, Freddie Harris, Carter Lawhorn, Andrew Peabody, Isabelle Strasser, Haley Yates
2nd Place – FloodSafe LLC
Amanda Bologna, Param Ektare, Kaity Hoffman, Jake Medvene, Kyle Rhodes, Matthew Streck
3rd Place - SerenityShirt
Gemma Bronson-Howard, Sonam Gurbuxani, Ashley Lenhart, Kendall Lutts, Landon Messmer, Julia Shaffer
4th Place - TreeTop, LLC
John Beer, Rob Farrell, Samantha Kynett, Patrick Moran, Alex Peery, Emma Sawyer
5th Place – Sensory Security Systems
Alec Blitzstein, Charles "CJ" Calloway, Seung-Hwan Chang, Nathan Dornblaser, Kristin Maghamez, Ryan Williams
6th Place- GreenBags, LLC
Joe Bynum, Troy Clark, Elle Nguyen, Ronald Spera, Daniel Sugrue, Alex Sweger
Final Round Judges:
Don Rainey, general partner, Grotech Ventures
John Connor, founding partner, Ethos Group
Loretta D'Ermes, operations and billing manager, MLS Educational Consultants Inc.
Katherine Ferguson, senior vice president of business development, Cooley LLP
Frank T. "Buddy" Gadams, president, Marathon Development Group Inc.
Sean Tobin, managing director of cross rate sales, Deutsche Bank
Published: Wednesday, March 29, 2017
Last Updated: Wednesday, January 2, 2019