College of Business
A Break for Others
---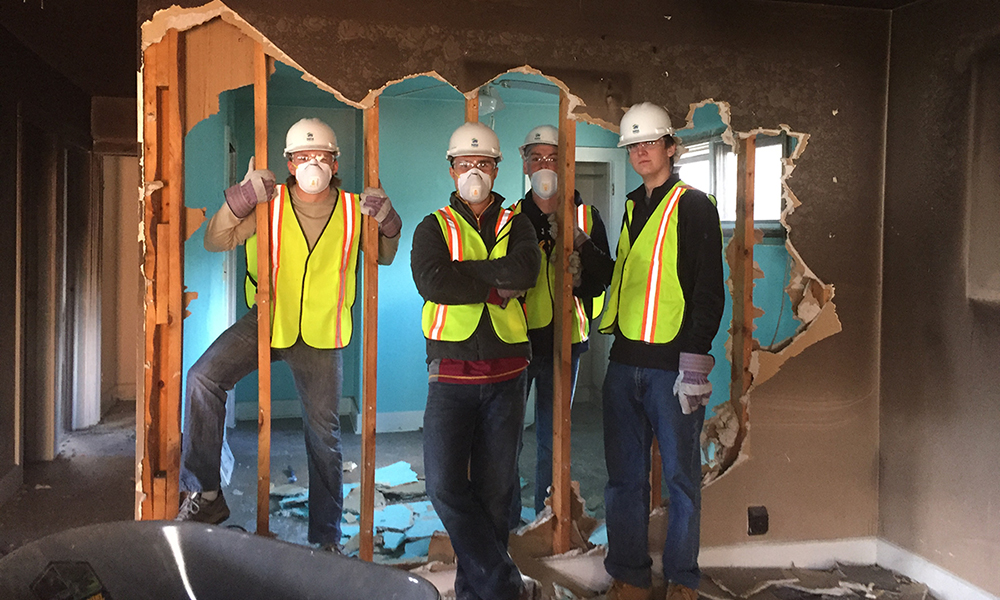 SUMMARY: CoB students spent their breaks giving back and learning more about the struggles of those living in poverty.
---
While many of their peers spent spring break relaxing on the beach, eight students from the College of Business (CoB), along with associate dean Molly Brown, traveled to Nashville to volunteer for Habitat for Humanity ReStore.  
The retail store sells new and used building supplies and furniture at discounted prices, with proceeds helping to fund the work of Habitat for Humanity. The group worked from 9 a.m. to 3 p.m. for four days, unloading and cleaning donated items such as appliances and cabinets. They also opened and stirred hundreds of cans of paint, measured numerous doors and arranged hardware displays. 
"This experience gave students an idea of what social enterprise is all about and how businesses can be run for the benefit of a non-profit," Brown says. "Social responsibility is an important part of business education. We want our students to make ethical decisions and to be aware of the social issues that many communities struggle with."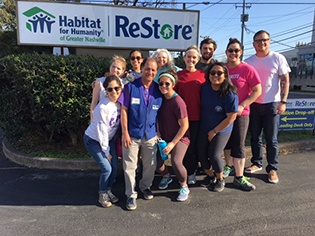 The CoB group went as an affiliate to JMU's Alternative Break Program (AB), which strives to develop thoughtful, active citizens by connecting students and community leaders. The student-organized AB trips are designed to educate students about society's challenges and to engage them in thinking about ways to solve those problems. Each evening, the group devoted time to reflect about "the high, the low and the a-ha" moments. Brown, who's already recruiting students to plan next year's trip, says the trip gave students a first-hand view of Nashville's affordable housing crisis. 
For senior Katherine Hunt, serving as a co-leader for the trip gave her the opportunity to develop professional skills and sparked ideas about her future career. 
"Volunteerism and giving back to the community is something that's been very important to me," says Hunt, who will attend Antwerp Management School after graduation. "Moving forward with my career, I want to make sure that I'm with a company that gives back to the community it serves." 
AB trips don't have to last a week. Twelve freshmen from the MadisonBiz residential learning community spent a February weekend volunteering in Big Stone Gap, Va. They did demolition and clean-up for a house damaged by fire. The property had been donated to Habitat for Humanity, and a new home will be built on the site for a family in need. One evening, the group was visited by musician and historian Tyler Hughes, who talked about the history and struggles of Appalachia and performed music from the region. 
"Participating in Alternative Break is a great way to see how you can make a difference, even if it is just for a weekend," says freshman Gabby Obusan, a co-leader for the trip. "Being able to work with Habitat for Humanity taught me about those who are not as fortunate as I. Whatever I happen to become in the future, I hope to find a way to help those in need."
Published: Wednesday, March 29, 2017
Last Updated: Wednesday, March 29, 2017