Marketing
JMU Marketing Students Top Social Media Competition
---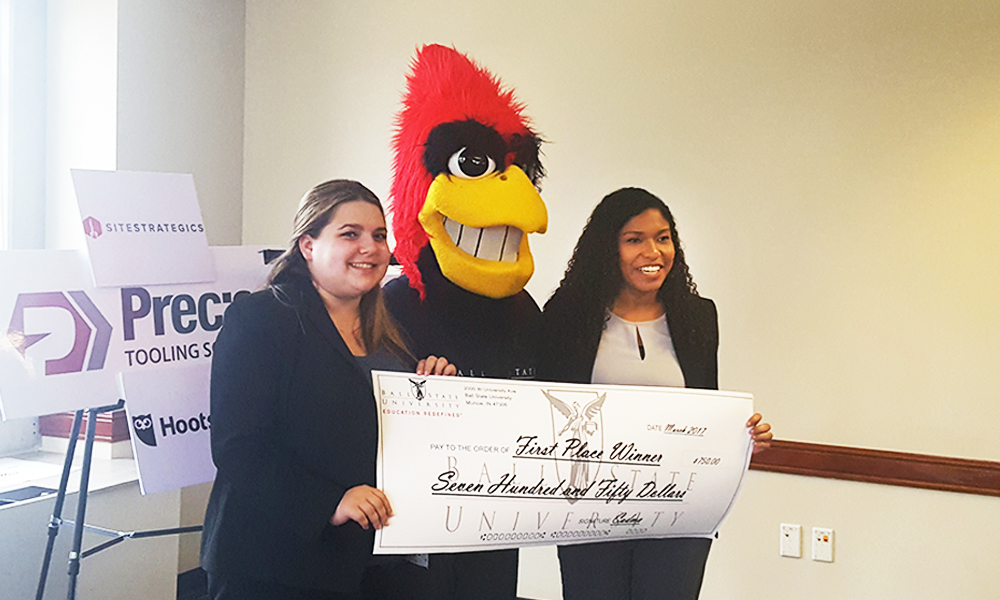 SUMMARY: JMU marketing majors apply lessons learned in the classroom to win the Ball State Social Media Competition.
---
A team of JMU marketing majors won first place in the Ball State Social Media Competition, besting 40 teams from universities across the country in solving a difficult B2B social media problem. During the final round of competition, senior Alicia Campos and sophomore Emily Alford were given 20 minutes to prepare a 7-minute solution to a new wrinkle in the case study they'd worked on all along. They excelled and came home champions with a $750 prize. 
The case study for the earlier rounds of competition focused on a complete rebranding of Precise Tooling Solutions' online business-to-business marketing presence after the acquisition of a new product line. Students were to develop a social media marketing and communication strategy that would help the company grow its existing core customer base while expanding into new market segments and industries. The final round featured a different and totally new product with a different target audience.    
For Emily Alford,  this was the first opportunity to compete in a social media competition. "As I worked on this campaign," she says,  "I developed a new foundation for how the social media world works, and these new skills will serve me well throughout the rest of my time at JMU." 
These opportunities are vital to the Marketing Department and JMU mission of being the national leader of the engaged university. 
"This competition was reflective of the techniques and tools I learned in class during four years in the College of Business," Campos says. "I was excited to implement the knowledge I've gained in an experiential learning scenario."
Published: Monday, March 27, 2017
Last Updated: Monday, March 27, 2017