Accounting
JMU Accounting Students offer Free Income Tax Preparation
---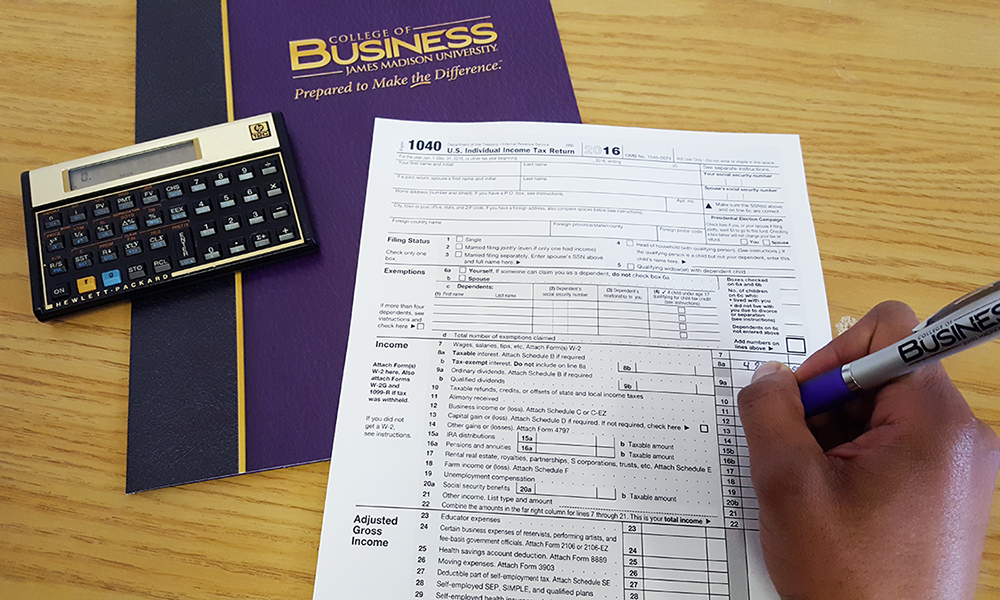 SUMMARY: JMU's School of Accounting has partnered with the IRS to provide income tax preparation services for low- to middle-income residents of the local community.
---
For the 2017 tax season, graduate student Shannon Williams has the unique opportunity to gain real-world experience while serving the local community. Williams is one of nine Master of Accounting students who have pledged to work about 50 hours with the JMU Volunteer Income Tax Assistance (VITA) Program, preparing tax returns for low- to middle-income people from the local community. 
"It's not often we get the chance as students to practice accounting in the real world," Williams says. "Most of what we do is hypothetical, and we wonder, like most other majors, how much of what we learn in class will be applicable in practice. I thought this was an experience that would challenge me in ways that I would not have the opportunity to do again before starting a job." 
The School of Accounting is administering VITA in partnership with the IRS to provide free tax preparation and e-file services to individuals and families of Harrisonburg and Rockingham County with a maximum income of $54,000. The program started in late January and runs through April 15. 
The graduate students are providing the service as  part of the requirements for a course in tax compliance and will receive academic credit. The program also involves undergraduate students from Beta Alpha Psi, the international honors society for accounting, CIS and finance majors, as well as a few JMU students in the general education program, who provide support services such as translation, greeting and interviewing. All students and faculty who work in the center have received appropriate training and certifications from the IRS. 
"By providing the service, students in the College of Business, as well as across the university, have the opportunity to gain 'real world' experience while engaging with diverse segments of the local population," says marketing professor Ron Cereola, who coordinates the program. "The VITA program is a highly visible effort that advances the university's mission of community outreach and engagement." 
Williams, who has enjoyed meeting and helping people from the local community, says the experience has broadened her understanding of the material she's studied in the classroom.
"On an academic level, this experience has really expanded my knowledge of tax law and forced me to dive deeper into the tax code," she says. "It is always easier to remember and understand material once you've seen it outside of a classroom setting."
Published: Monday, February 27, 2017
Last Updated: Wednesday, January 2, 2019