College of Business
A COB 300 Business Plan Comes to Life
---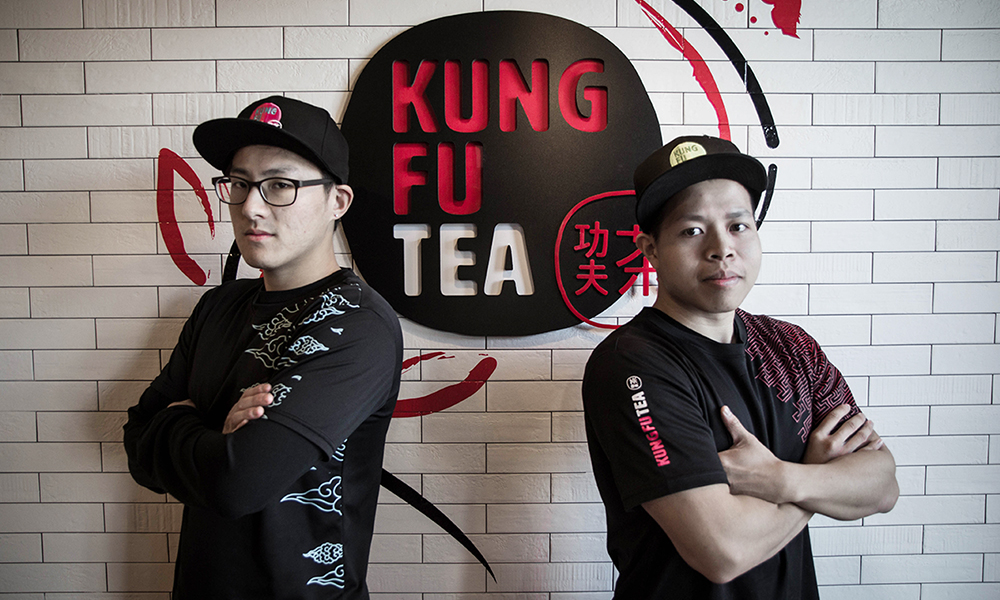 SUMMARY: A business plan hatched in COB 300 in 2009 became a reality in Harrisonburg in 2016.
---
When Michael Wu, '11, pitched the idea of a bubble tea cafe as his business plan concept for a class he took during his junior year at JMU, his teammates thought he was joking. None of them had ever heard of the dessert drink that originated in Taiwan in the 1980s. So Wu, then president of the Chinese Student Association, invited his team to taste the bubble tea samples the organization was selling as a fundraiser at the JMU Commons. As a result, the team was sold on the concept and named the fictitious cafe Boba Blast for the class project. 
The business plan did more than fulfill the COB 300 course requirement, as Wu never stopped thinking about the bubble tea cafe. When a Kung Fu Tea franchise store became a hit after opening in Annandale in 2015, Wu says, "I thought, 'That could have been me.' I realized that this was my time to do something with my business plan." 
Last October--seven years after taking the COB 300 course--Wu and his business partner, Peter Chan, '11, opened their own Kung Fu Tea franchise in Harrisonburg. The cafe operates under the registered business name, Boba Blast LLC. 
"It's been rewarding for Peter and me to come back to Harrisonburg and to give back to the community that nurtured us for four years," says Wu, who still holds his "day job" as a government auditor in Northern Virginia. 
For Chan, establishing the business partnership with Wu felt like a natural fit. A native of Taiwan who moved with his family to Charlottesville at age 12, Chan met Wu as a freshman at JMU. They participated in several student organizations together, including the Chinese Student Association and the Table Tennis Club. 
Chan, a CIS major who now serves as principal manager and chief technology officer for the cafe, is grateful for the COB 300 experience at JMU, which he says provided excellent preparation for his role managing Kung Fu Tea employees and the cafe's day-to-day operations. He left behind a lucrative job at Freddie Mac to open the Kung Fu Tea store with Wu and has no regrets.
"I had a very secure job, but ultimately, it's about doing what you love," says Chan, who is now enrolled in graduate school. "After working in a corporate environment, I wanted to be part of defining a workplace culture that makes sense to me. A lot of people saw it as a risky decision, but it was the right move for me."
Published: Monday, February 27, 2017
Last Updated: Wednesday, January 2, 2019