Marketing
Marketing and Management Students Compete in Target Case Competition
---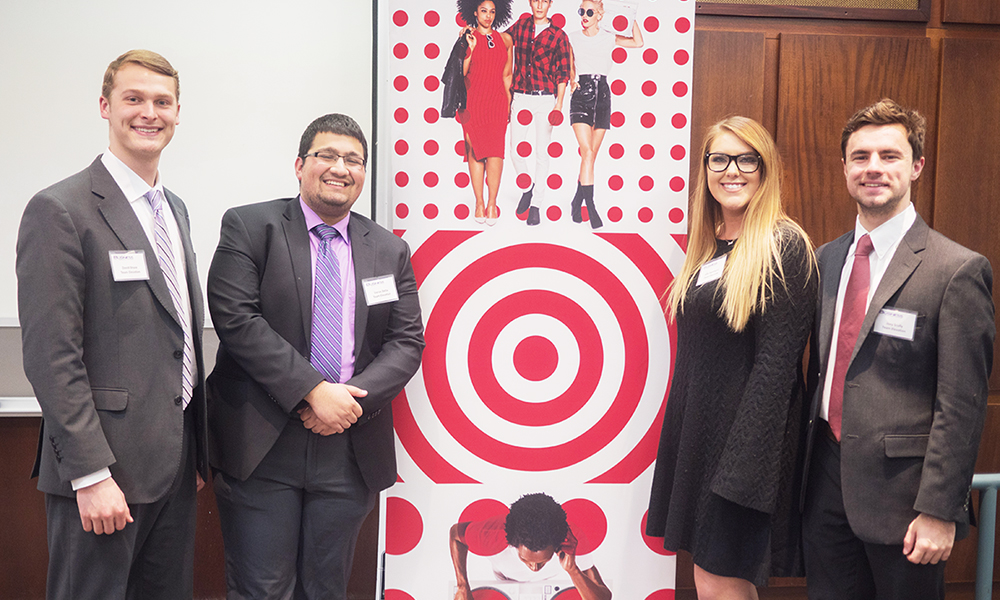 SUMMARY: The Target Case Competition gave students a chance to practice solving real-world business problems.
---
Four student teams representing the Marketing and Management departments participated in the Target Case Competition, applying concepts learned in the classroom to real-world business problems. One case focused on using technology as a marketing tool, while the other focused on leading a company through organizational changes. Students presented their proposal to a panel of Target executives who were judges for the event. 
Team Elevation, representing the Marketing Department, was the overall competition winner, receiving a $1,000 scholarship prize. The team included seniors Joey Scully, Allie Hammond, David Bruce and Varun Datta, who presented ideas for using innovative technologies such as an interactive smart cart, a virtual reality changing room, and a 3D toy printer. 
"It was nice to have a project like this to work on without the pressure of being graded so we felt like we could work more creatively and outside the box," Hammond says. "The case we worked on had minimal information, so it required more work on our end, but allowed us to shape our project in any way we wanted to. We're all graduating seniors, so this is more like what we'll be facing once we get into the workplace, perfecting and owning a project from top to bottom." 
The Target judges panel also selected one winning team from each department. Team TAD, with juniors Caitlyn Rathbun, Jami Adler and Briana Cifelli, won first place for marketing; Team SHRM, comprising seniors Morgan Plant, Maddy Healy, Shelby Friend  and Connor Murray, won first place for management. Each team received a $500 scholarship. 
Also representing the Management Department was Team SIE, comprising seniors Lindsay Combs, Alex McGuire, Matthew Medwed and Leigh Mulligan. 
"This is a great opportunity for students to demonstrate their analytical and problem-solving abilities in the context of a realistic problem facing a real company," says management lecturer Dan Zisk. "The case competition gives students a chance to discuss a managerial problem with practicing managers and to benefit from their feedback. This should demonstrate the value of what they have learned during their time in the College of Business, help build the reputation of JMU, and also benefit Target. We are extremely grateful for their support in providing this opportunity to our students."

Thanks to the Target leaders who helped organize and judge the event:
Kristen Maskell, human resources business partner for Northern Virginia
David Wyant, senior recruiter, campus, for Virginia, West Virginia and North Carolina
Rachel Moster, executive team leader, HR, in the local Harrisonburg store
Zachary Conte (JMU alumnus), executive team leader for logistics in the Culpepper store
Published: Monday, February 6, 2017
Last Updated: Wednesday, January 2, 2019