College of Business
Showker Hall Turns 25
---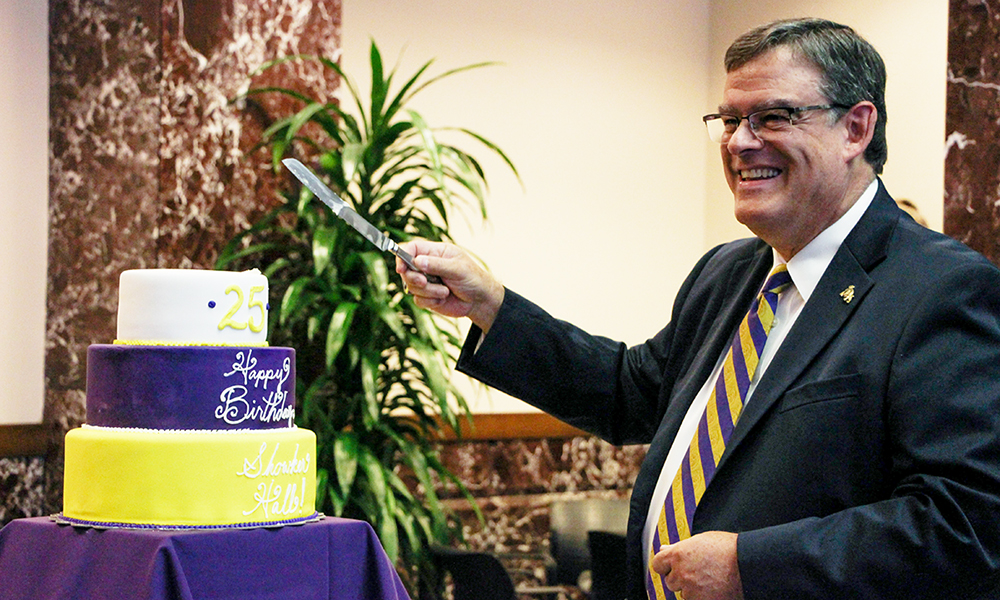 SUMMARY: The College of Business celebrated a quarter century in Zane Showker Hall, named for the late Zane D. Showker, a model of the entrepreneurial and philanthropic spirit the CoB community strives to emulate.
---
As the College of Business (CoB) looks ahead to 2020, when the new CoB Learning Complex is expected to open, the community took time to honor its past. For 25 years, Zane Showker Hall has been the site that nurtured a growing business program to national prominence. On Oct. 28,  the community gathered to celebrate the Showker legacy. 
The enterprising spirit of Zane D. Showker, the building's namesake and primary benefactor, has been a powerful inspiration for the CoB over the last two decades. A former rector of JMU's Board of Visitors, Showker started his business, Harrisonburg Fruit and Produce, with $50 and a borrowed truck in 1950. That successful company eventually merged with Sysco, one of the nation's largest food distributors.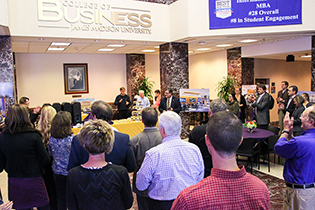 A generous philanthropist who was instrumental in establishing the Hahn Cancer Center at Sentara RMH Medical Center, Showker served on the CoB Advisory Council and the JMU Foundation Board before his death in June 2004. Showker Field at Bridgeforth Stadium is named in his honor. 
"We are grateful for Zane Showker's generosity in providing a naming gift for the College of Business building 25 years ago," says CoB Dean Mary Gowan. "Throughout his distinguished business career, Mr. Showker demonstrated what it means to be a successful entrepreneur and an engaged, responsible citizen. Having his name on our building is a daily reminder of his legacy at JMU and in the Shenandoah Valley.  As we move forward with plans to renovate and expand our building, celebrating this milestone reminds us of why the building exists and our commitment to prepare students who will make the difference in their professions and communities as did Zane Showker."
Joe Showker, '79, who attended the Showker Hall celebration with his wife Debbie and daughter Christen Elizabeth Showker, '12, MS '13, paid tribute to his father's visionary leadership. Though his father never had the chance to finish college after one first semester at the University of Richmond, the elder Showker was dedicated to strengthening educational opportunities for young people.
"[My father] went through the school of hard knocks and that's where he got his education," Joe Showker said. "But his core value is what we call compassionate capitalism. He believed in entrepreneurship. He believed in business ownership. He believed in profit. But more importantly, once he achieved that, he believed in taking that capitalism and turning it back into the community and giving back to the community he lived in … And we send our graduates all across America and all across the world from this building and from the [new] building that will continue on to Newman Lake to do great things in our communities."
Published: Thursday, December 1, 2016
Last Updated: Thursday, January 4, 2018