College of Business
SHRM Fall 2016 Case Competition
Organized by Dr. Laura Leduc
---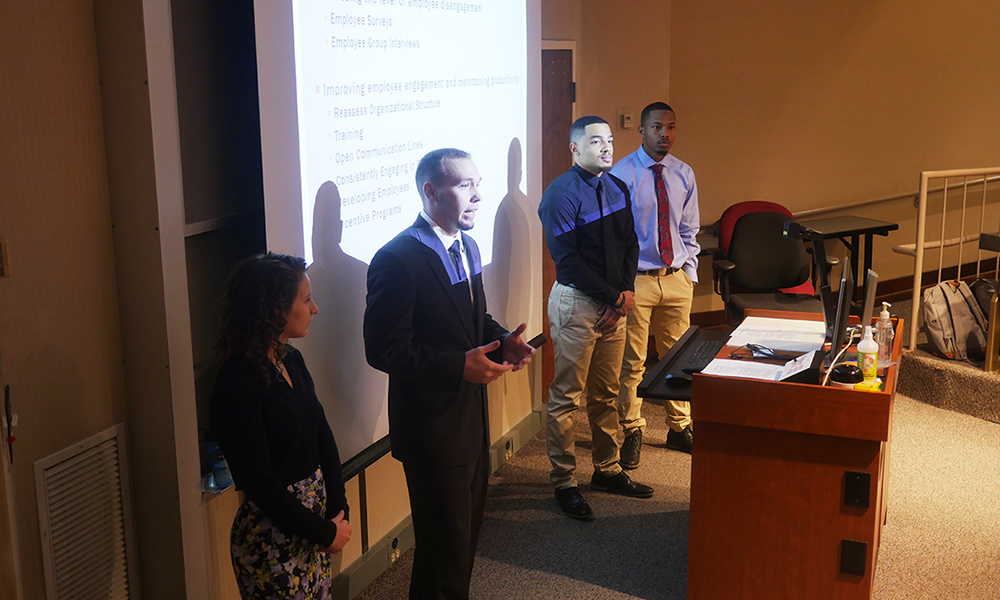 On Friday, Nov. 11, College of Business (CoB) and Bridgewater College (BC) management students participated in a Human Resources Case Competition at James Madison University (JMU). The competition, organized by JMU faculty member Dr. Laura Leduc, called for collaboration between both schools as multiple teams presented in front of a board of judges.
Each team was comprised of a mix of 3-4 JMU and BC students. The students involved met two weeks prior to the competition to strategize about their solutions. After their meeting, students from both schools worked closely with one another up until the date of the competition. This kind of collaboration between both colleges is reflective of the kind of experience that CoB provides to its students.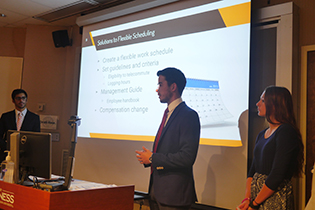 This year's winning team consisted of JMU students Reza Malik, an officer in the JMU chapter of the Society for Human Resource Management, and Gokhan Yetim as well as BC students Bailey Kratz and Chris Sokolyuk.
The teams strategized about what they think management should do in response to a series of issues presented in a given case. Teams had 15 minutes to present their solutions, followed by a 10 minute Q&A from the judges. Judges included Rick Larson, JMU's Assistant VP for Human Resources, Training, & Performance; Peggy McHugh, JMU Benefits Administrator; Ben Griffin, JMU Alumnus and HR Manager at Bowman Andros Products; and Sheri Bender, JMU Alumna and HR Director at Friendship Industries.
Many of the participants will be competing in a regional SHRM case competition in Philadelphia in the spring and used this event as preparation.
Published: Wednesday, November 30, 2016
Last Updated: Thursday, January 4, 2018