College of Business
Students Practice the Art of Selling
---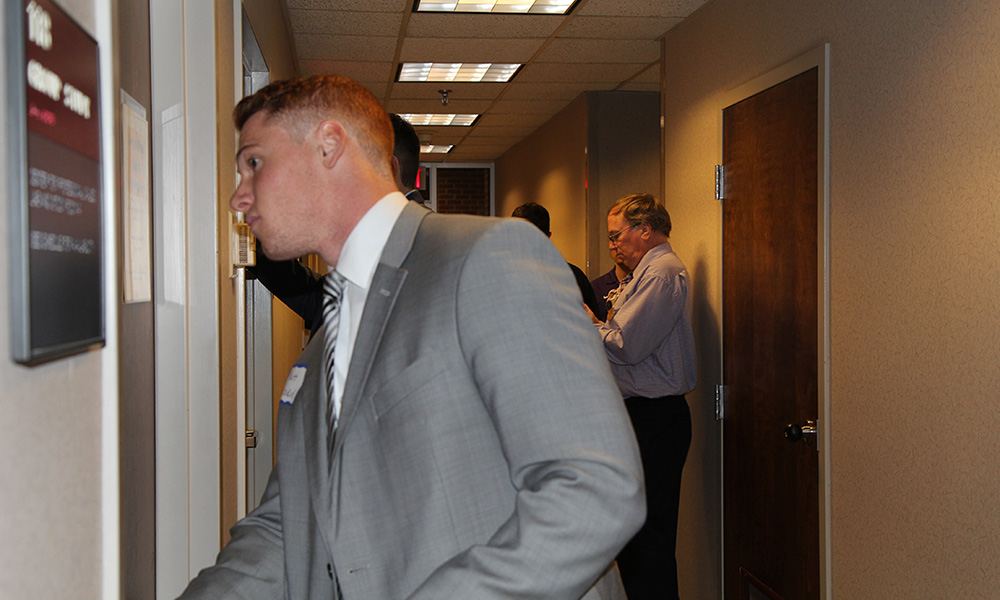 SUMMARY: The annual Sales Competition at JMU gives students a chance to develop sales skills while networking with industry professionals.
---
The JMU Center for Professional Sales and the JMU Professional Sales Club hosted its 3rd annual Sales Competition on Sept. 27, giving students a chance to step into the role of sales professionals, engaging in real-world sales scenarios with business executives acting as buyers. More than 20 students participated, competing for the opportunity to represent the university at various intercollegiate sales competitions throughout the academic year. The winners were David Bruce, Rachel Reinhardt, Caitlin Miller and Alexander Fish, all senior marketing majors.
The competition is made possible by corporate partners who send representatives to participate as judges or to play the role of buyers. Students were judged on qualities such as their professional introduction and gaining a prospect's attention, building rapport and identifying needs, and closing the sale.
A networking event followed, giving students the opportunity to mingle with potential employers. Reinhardt discovered first-hand the value of making connections. After competing in the spring 2016 event - her first competition - she was hired for an internship at sponsor company TEKsystems. She worked as a technical recruiter for the company.
"I was nervous to be selling a product to an actual business person, but in the end, that was the most helpful thing about the competition because I got valuable feedback from people who sell or recruit for a living," says Reinhardt, who also is pursuing a minor in human resource development. "Even though I didn't go on to the final round of competition, I got an internship out of the experience - so I was definitely not upset! I would recommend the competition to anyone that is looking for an internship or full time position in sales."
The lead corporate partners for the event were: ADP, American Woodmark Corporation, CH Robinson, Comcast, Gartner, IBM, Laird Plastics, Paychex, Paycom, Richoh, TEKsystems, Tom James, Trunk Club and Vorsight.
Published: Wednesday, October 12, 2016
Last Updated: Thursday, January 4, 2018