College of Business
Thriving with Change
---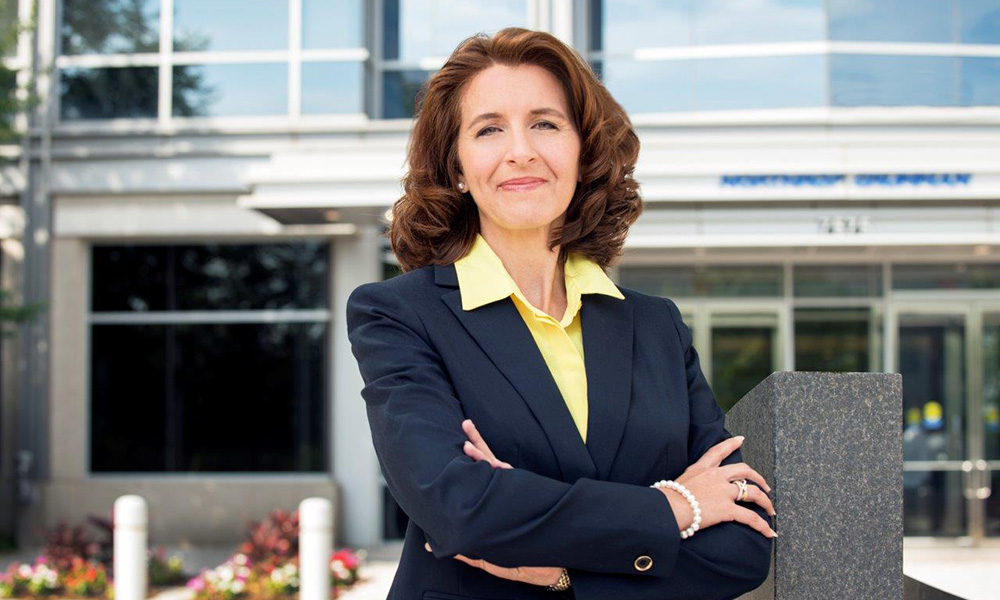 SUMMARY: As an executive in the ever-changing field of cybersecurity, Kathy Warden, '92, is always ready for change.
---
As an executive in the ever-changing field of cybersecurity, Kathy Warden, '92, is always ready for change.
Shortly after the Sept. 11, 2001, terrorist attacks on U.S. soil, Warden transitioned from managing commercial business accounts to leading an aerospace and defense portfolio. It was a new industry for her, and Warden had to rely on strong interpersonal skills to build a new professional network and broaden her understanding of the field.  
"Even though I was mid-career, making this change meant learning a whole new industry and building a whole new network," says Warden, corporate vice president and president of Northrop Grumman's Mission Systems sector. "I recognized that that even though I already knew a lot about running a business in the commercial sector, I'm always a learner. Learning is a continuous process, and it is okay to expose yourself to that kind of change. You need to rely on other people to help you learn at that stage. Often it just takes having the courage to ask for guidance. So it's about overcoming that perception that you should always have the answers and being open to the concept that no matter where you are, or what level you're at, you'll always have things to learn. 
In her current role, Warden oversees large-scale, mission-critical systems and complex hardware and software products within the U.S. and internationally in areas such as command, control, computing, communications, intelligence, surveillance and reconnaissance (C4ISR) and cybersecurity. Before joining Northrop Grumman in 2008, Warden held executive level positions with General Dynamics Advanced Information Systems and Veridian Corporation. Earlier, she was a principal in a startup Internet firm and worked for nearly a decade at General Electric Company.
Warden, who earned an MBA from The George Washington University, serves on the board of directors for the Federal Reserve Bank of Richmond and the Wolf Trap Foundation. A member of the CoB's Board of Advisors, she  served as an advisor to the Clinton administration's Internet Advisory Council in the early 1990s and is a former chair of the Executive Mosaic Cyber Group and past member of the executive committee for the Intelligence and National Security Alliance. 
Noting that only around 12 percent of students pursuing degrees in computer sciences are female, Warden is committed to boosting diversity in the information technology careers and has worked to attract more women and minorities to the field. As a member of the company's Corporate Policy Council, she has helped develop and implement best practices for increasing diversity and inclusion. A mentor to several young women just starting their careers at Northrop Grumman, she also has worked with the company's initiatives to reach out to schoolchildren at the K-12 level through programs such as CyberPatriot, a national youth cyber education program.
Warden is grateful for the focus JMU's CoB places on team project work, communication and interpersonal skills . She considers those experiences critical to her own success.
"I'm grateful for the opportunity to give back to the College of Business because it prepared me so well for my career," says Warden, who met her husband, Charles "Eric" Warden, '93, at JMU. "By serving on the CoB's Board of Advisors, I hope I can contribute back to current and future students so they are equally or better prepared."
Published: Thursday, September 29, 2016
Last Updated: Thursday, January 4, 2018