Business
CIS Faculty Members Receive DSI Award
---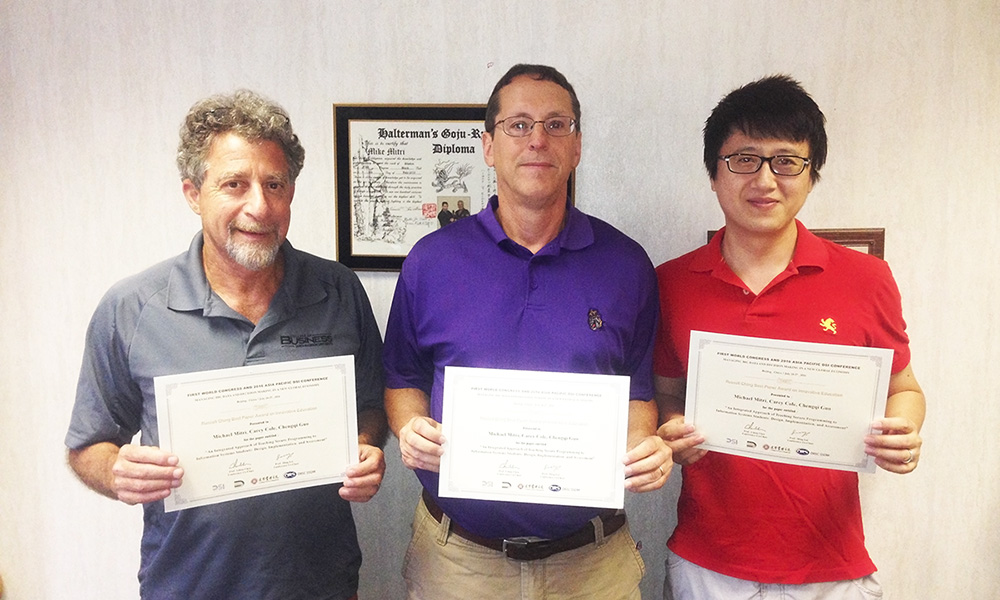 SUMMARY: CIS Faculty members Mike Mitri, Carey Cole and John Guo won the Russell Ching Best Paper Award at the DSI Conference.
---
Recently three CIS faculty members received recognition for their contribution to the research of innovative education in Cybersecurity.  
In the First World Congress and 2016 Asia-Pacific Decision Sciences Institute (DSI) Conference, Mike Mitri, Carey Cole, and Chengqi "John" Guo were the winners of Russell Ching Best Paper Award. Their paper is titled "An Integrated Approach of Teaching Secure Programming to Information Systems Students: Design, Implementation, and Assessment." The conference was held in July 2016 at Guanghua School of Management, Peking University, Beijing China. 
The paper's contribution is in threefold: 1. Current and future Information Systems (IS) personnel and management need to understand SQL Injection, cross-site scripting (XSS), and other web-originating information security vulnerabilities. 2. Coupled with the virtual environment, the Open Web Application Security Project (OWASP) offers a robust amount of information on this subject and is an excellent starting point in the creation of lecture, demonstration, and student practice on the subject. 3. Assessment is an integral part of teaching, as it determines whether or not the goals are met.
Published: Friday, September 2, 2016
Last Updated: Thursday, January 4, 2018