CoB Alumni Stories
No Place Like Home
---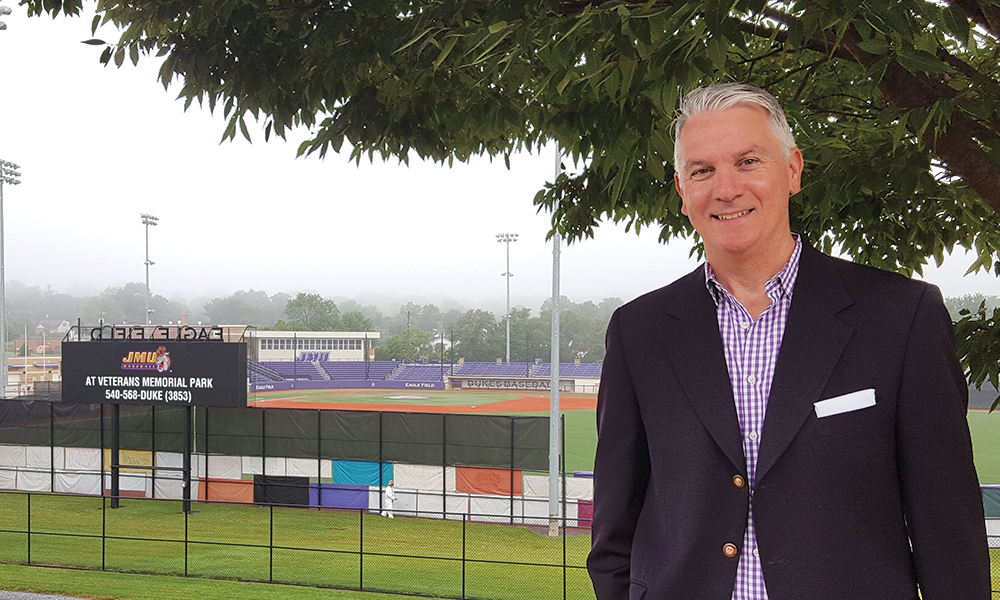 SUMMARY: Mark Siciliano, '84, found the perfect fit at JMU.
---
When Norwalk, Connecticut, native Mark Siciliano came to JMU to play baseball in the early 1980s, he fell in love with the place. Siciliano, who was first in his family to attend college, discovered that the university was a place that challenged him to grow personally and intellectually. 
"I found a home at JMU, in the heart of the Shenandoah Valley - what a great place," says Siciliano, '84, a managing senior director of the Global Field Enablement group for Marketo, a technology company that develops digital marketing software and solutions. "Studying and playing ball taught me how to balance it all. JMU helped define who I am today, and I would recommend it to anyone interested in getting the most out of a college experience." 
Siciliano, who grew up in a family of baseball players in Norwalk, Connecticut, played at The Catholic University of America in Washington, D.C. for two seasons - from 1980 to 1982. He transferred to JMU when he was recruited as a shortstop by Brad Babcock, the Dukes' coach at the time. 
After earning a B.B.A. in finance and accounting, Siciliano enrolled in the JMU College of Business (CoB) MBA program. During his first year, he worked as a graduate assistant coach for the Dukes' baseball team. He was a graduate teaching assistant in the Department of Finance and Business Law during his second year. 
"So many great people gave me great opportunities at JMU," says Siciliano, who has lived in the Harrisonburg area for the past 30 years and worked remotely for his employers based outside of the region. "JMU was the best combination of learning and developing as a person. It gave me the ability to work hard and play hard. My professors took a personal interest in me, and they were accessible." 
At Marketo, Siciliano is responsible for making sure the sales staff has the training, knowledge and resources needed to successfully sell the company's products and solutions around the world. Last year, he was named to Marketo's Purple Label Society, the company's club recognition for service that goes above and beyond the expected. 
Previously, Siciliano worked for Oracle for 16 years in several capacities, including as senior director of the Oracle Sales Academy, director for global operations, performance and programs, and as North American Specialist. Early in his career, he worked in Harrisonburg as an accountant and was on the JMU faculty for four years. 
Siciliano, who belongs to the JMU President's Council and is a member of the CoB Department of Marketing Advisory Board, remains closely involved with JMU these days. An avid Dukes baseball fan, he often serves as a guest lecturer in CoB marketing classes. He and his wife Ann Brown Siciliano, who graduated from JMU in 1986 with a degree in marketing, have two adult children. Out of gratitude for their experiences at JMU, the Sicilianos honored Mark's father, who never had the chance to go to college, by establishing the Eugene J Siciliano, Sr. Endowed Scholarship at JMU. 
"I can't say enough for everything JMU has given to me," says Siciliano. "I earned my degrees here, I met my wife here, and we stayed here to raise our family. I've been to a lot of places in this world, but I always enjoying coming back to the Shenandoah Valley and staying connected with JMU. 
Published: Monday, August 1, 2016
Last Updated: Thursday, January 4, 2018