News
From the Textbook to Real Life
---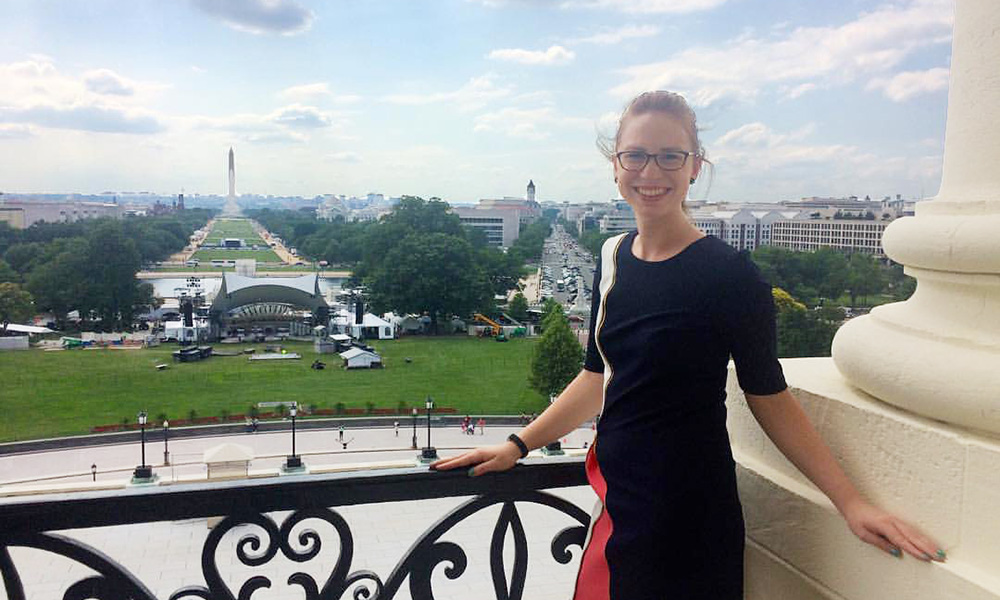 SUMMARY: Management Interns Prepare for Careers Through Summer Internships.
---
As an intern working for an Amazon fulfillment center, Andrew Garrison, a rising senior management major, works where inventory is stored and prepared for shipping to customers. Working in a 1.2 million square foot warehouse, which Garrison describes as having " miles of conveyor belt, and hundreds of employees," he is applying concepts learned in his management courses at JMU's College of Business (CoB). 
The primary focus of Garrison's internship is to learn how to be, and act as, an "area manager," a position he hopes to land after graduating from JMU next spring. He manages anywhere from 40 to 80 employees each day, directing them in their work, providing feedback and other tasks. 
Garrison's supervisors also assigned him to the task of analyzing a particular process within the fulfillment center and finding ways to make measurable improvements. After observing the process and collecting data, he developed and tested a new process, measured the results, reported them through a white paper and a presentation to his managers. The experience has given him insight into how managers make decisions and an opportunity to practice his written and oral communication skills. 
"This internship fell right in line with the specific path that I want to take for my career," says Garrison, who is minoring in business analytics and pursuing a concentration in Technology, Innovation and Entrepreneurship (TIE). "I plan on working in supply chain management and logistics, and what better company to gain experience in this field with than Amazon? I wanted to be exposed to a large, successful company, and be tasked with a lot of leadership responsibility to grow and learn from." 
Garrison is one of four students enrolled in MGT 494, an internship course providing students the opportunity to work for businesses to gain insight into the real side of modern management. The three-credit hour course requires students to submit regular reports about their internships and how the jobs they're doing relate to CoB courses. They must submit an account of their daily tasks, a 12-page paper, weekly journal entries and sample documents from their experiences. 
Kiersten Schierenbeck, a rising senior double majoring in business management and hospitality management, has an internship at the U.S. House of Representatives, working in the Chief Administrative Office (CAO) in the Logistics and Support office. The nonpartisan office provides all necessary logistical support for members of Congress, such as reconfiguring an office when new employees come on board. Schierenbeck is helping members of Congress prepare for transitions after November's state and national elections. 
Schierenbeck also is doing extensive work on a budget for the Cannon Renewal Project, the renovation of the oldest building on the campus of the Capitol. Work on the building will begin in January 2017 and is expected to last until 2024. Schierenbeck spends time figuring out costs of technology, supplies and other needs. She also is creating a reference guide for House employees to provide information they need to keep their offices running as efficiently as possible. 
"This has been a great place to intern," says Schierenbeck, who also is pursuing a TIE concentration. "This has been a great experience that's  teaching me a lot about working in a business and how to manage a business. It's exciting because that's something I see myself doing a few years down the road. Everything I'm learning in this internship will help me in whatever career I decide to pursue."
Published: Monday, August 1, 2016
Last Updated: Thursday, January 4, 2018