Master of Business Administration
Balancing Family, School and Growing Farms in Latin America
---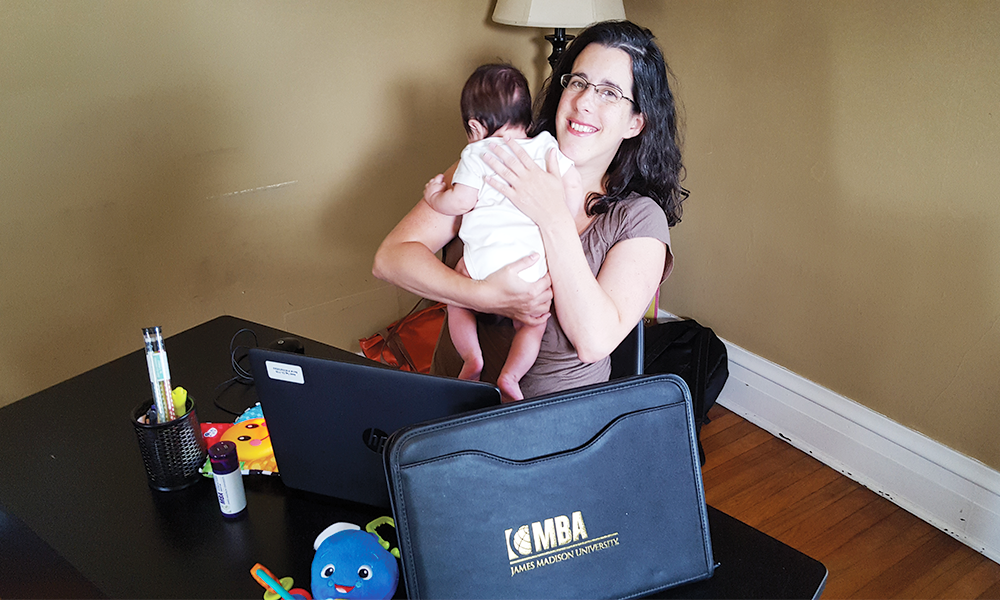 SUMMARY: JMU Innovation MBA Student Delivers Solutions to Developing Countries
---
Working in international development for the past 14 years, Heather Joffe Reyes has managed all areas of corporate and overseas project operations—from design, work planning, and monitoring to personnel, compliance, training and budgeting. As a student in JMU's Innovation MBA program, Reyes has been able to sharpen her business and leadership skills to be even more effective in delivering positive results for citizens in developing countries.
"I was interested in the concept of innovation," says Reyes, who works for Washington, D.C.-based Chemonics International, which has overseen socioeconomic development projects in more than 150 countries throughout the world. "It's something that I constantly explore in my work. We have to find innovative solutions in developing countries where there are limited resources or other constraints."
In her current role as a director within Chemonics' Latin America and the Caribbean Regional Business Unit, Reyes oversees the $22 million Colombia Rural Finance Initiative and the $18 million Climate Change Adaptation and Thought Leadership project. The Colombia project's goal is to connect 200,000 small farmer businesses with credit-lending services--a critical step in promoting their success and rebuilding Colombia's economy, which has struggled against more than 50 years of civil war.  
"I feel fortunate to have the opportunity to impact the lives of others in a positive way, no matter how small," says Reyes, who has also worked on projects in Bolivia, Peru, Guatemala and Honduras. "When I spend time overseas, I can see the impact over time. I can see how people's lives are improving and how their mindsets are changing. It's exciting to see that transformation."
When Reyes began exploring MBA programs, she was drawn to the excellent reputation of JMU's College of Business. The combined online and in-person format of the Innovation MBA program appealed to her and seemed manageable, particularly since her job requires frequent travel. She has been able to join virtual classes during her trips Latin America, including once from a rural backpacker's hostel in Honduras, where she found a suitable Internet connection.
"I was in one of the poorest, most drought-ridden parts of the Western hemisphere--a place that's plagued by undernutrition and a host of other ills. It was amazing that I was able to dial into class," says Reyes, a graduate of Brown University who served as a Peace Corps volunteer in El Salvador from 2000-2002.
Reyes, who will graduate in December, has balanced her career, school and family life deftly Not only did she receive the Outstanding MBA Student Award during the CoB Student Awards Ceremony this past May, but she also recently welcomed her first child, Pablo into her family.
Reyes is grateful for what she's learned in the MBA program and credits the coursework with further developing her professional skills. She took a course in financial analysis, for example, shortly before the proposal for the $22 million Colombia project was due. The course was perfect timing.
"This course provided the conceptual building blocks to help me understand this very new subject matter," says Reyes. "I'm not an expert in rural finance. This class that gave me the framework to understand the information and to organize the input I received with technical experts in agriculture and finance. JMU's Innovation MBA program provides practical and versatile building blocks that we can apply in a lot of different areas."
Published: Tuesday, July 19, 2016
Last Updated: Thursday, January 4, 2018