Finance
Elias Semaan, Finance
Associate Professor of Finance Discovered His Calling at JMU
---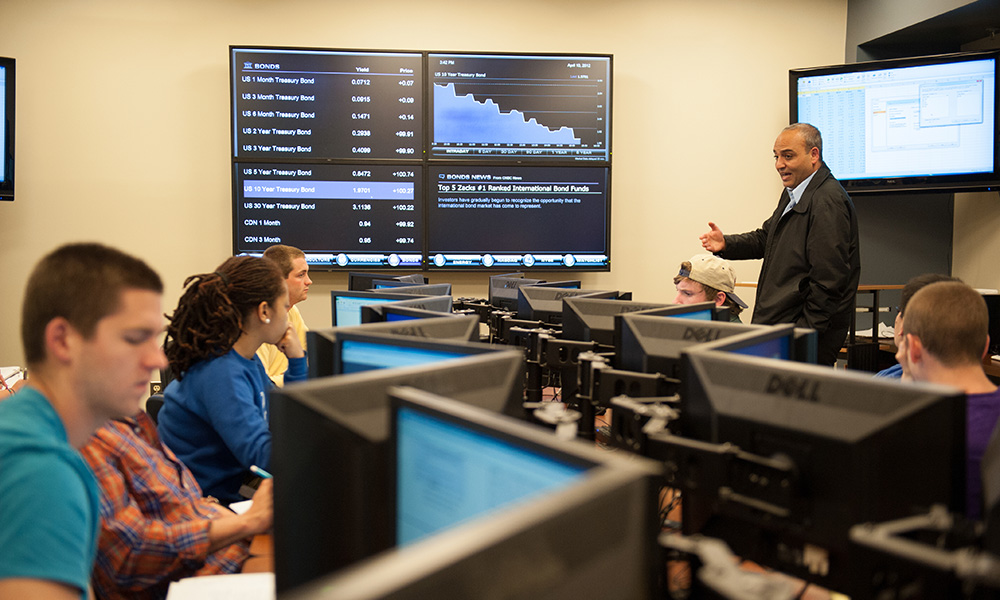 A life lesson Elias Semaan tries to teach his students is to "be true to yourself."
It's a value he embraced as a doctoral student at The George Washington University (GWU) in the late 1990s. His plans to pursue a career in the fastpaced and lucrative world of finance changed not long after he accepted a position as a visiting professor at JMU's College of Business (CoB) - a job he accepted primarily to provide income while completing his dissertation. It didn't take long for him to realize the joys of teaching and living in the tranquil Shenandoah Valley.
"I fell in love with this place," says Semaan, who began teaching at JMU in 1998 and earned his Ph.D. from GWU in 2005. "The quality of life here was wonderful, and my wife and I were happy here. We knew it would be a great place for our family. Teaching wasn't something I was planning to do, but I found that I had a knack for it. I've enjoyed seeing the positive impact I've been able to have on so many students."
An associate professor of finance, Semaan grew up in Lebanon and earned his bachelor's degree and M.B.A. from Lebanese American University. His areas of research include financial risk management and regulatory impact.
Known among finance majors for his charisma, enthusiasm and passion for his discipline, Semaan was named CoB Distinguished Teacher in 2011. He serves as faculty adviser to the Madison Investment Fundan organization that provides realworld investment experience for students who act as money managers for a portion of the JMU Endowment. Semaan also is faculty adviser for Sportsmen of JMU, an outdoor recreation club. Off campus, Semaan enjoys politics and advises several federal government boards on matters of foreign policy related to Middle Eastern affairs. He and his wife Carla, a parttime French professor at JMU, have two children.
Semaan enjoys getting to know students and mentoring them as they explore career options. "I've found over the years that I've managed to impact many students' lives and their career paths," Semaan says. "That is one heck of a reward. But when the students come back to say hello, or send emails - it's the best perk in this kind of career."
Published: Monday, July 18, 2016
Last Updated: Thursday, January 4, 2018