College of Business
Sun Shines on Rebecca Harris On and Off Court
On and Off Court
---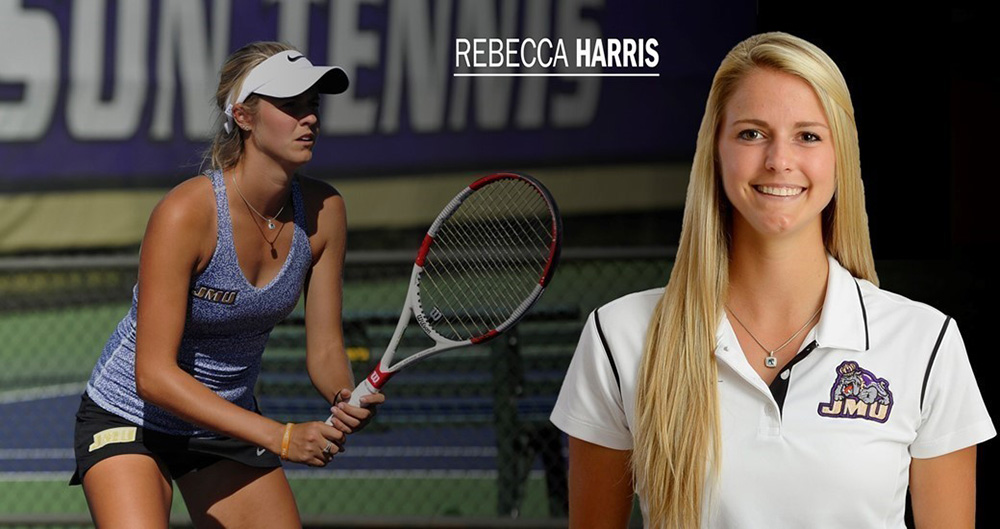 SUMMARY: If one were to ask a collegiate coach about an ideal student-athlete, there is a good chance they would describe someone who gives full effort while excelling both athletically and academically.
---
By Wayne Epps ('16), republished from JMU Athletics
If one were to ask a collegiate coach about an ideal student-athlete, there is a good chance they would describe someone who gives full effort while excelling both athletically and academically.
 
For head women's tennis coach, James Bryce, Rebecca Harris is just that. Bryce said Harris has been a "ray of sunshine" into the women's tennis program since she arrived in Harrisonburg.
 
"She's exactly what a coach looks for in a player when they recruit somebody, when they bring somebody in," Bryce said. "She's a great team player and she does well in the classroom. She works her butt off every single day, and she wants to improve. When you have someone like that who's a sponge, it's a pleasure to be around."
 
Albeit, Harris got to JMU rather late in the process. She transferred from Virginia Tech in August 2014, and Bryce said that she enrolled just three or four days before the start of that fall semester.
 
After that, though, Harris blossomed into her roles both on and off the court for the Dukes. She sat out the fall 2014 season while still recovering from summer wrist surgery but went 15-2 overall in singles dual play and 8-4 overall in doubles dual play last spring.
 
Harris, a junior marketing major, also became someone for teammates like sophomore Kimmy Herrock to lean on. That role trickles from tennis to other areas of life.
 
"We became pretty close. I go to her for everything, on and off the court," Herrock, who is also one of Harris' doubles partners, said. "I look to her for advice with tennis, outside of tennis, with academics. She's really always there for me and everyone else too."
 
With academics, Bryce said that Harris utilizes the resources available to her, like tutoring. Harris certainly sees her academics as a top priority.
 
"Ultimately, school comes first," Harris said. "I'm very fortunate that my coaches stick to that value and they do what we need to do to have a successful team and have a successful season. However, they also realize that we're full-time students. I mean, we're student-athletes, not athlete-students."
 
The reason Harris was drawn to marketing is perhaps the same reason why she has turned into such a leader at JMU.
 
"I'm very much a people person, I love having conversations and getting to know people and building relationships with people," Harris said.
 
Because of its small roster of players, currently nine, the women's tennis team forgoes captains and assigns players to committees within the team. There is a community committee, activities committee and an inspirational committee.
 
Harris is on the inspirational committee. With no seniors on this year's team, Bryce said he looks to the juniors, like Harris, to guide the freshmen and sophomores.
 
"She is a very good leader, she's a natural leader," Bryce said. "Girls can go to her and talk to her, and they feel like they can really say things to her and she's not going to just tell everybody else, she's going to keep that in her and everything. So they can confide in her if they need to."
 
With those traits in tow, Harris decided to go on a mission trip to California with Athletes in Action this past summer. When Athletes in Action called Bryce for a reference during the application process, he had nothing less than a glowing review to give them.
 
"I said it's quite simple: she's the model student-athlete that you want," Bryce said. "She will be a great mentor for the younger kids on the trip."
 
So, Harris made the trip cross country to coach tennis in community outreach clinics
 
"It humbles you to see where you started in tennis, because you kind of see yourself in those kids that are hungry to find a sport that they love," Harris said. "And, it's very satisfying to kind of get out in the community and give back like that."
 
Coaching is something Harris did in high school, teaching beginners and pre-teen players. She explained if it's not marketing, coaching is a career path that she would consider.
 
"It'd be really awesome to be a collegiate coach, maybe a head coach, assistant coach," Harris said. "But I'm not set on coaching as what I want to do. But I'm also not against it. So I'm going to see where it takes me."
 
At JMU last semester, Harris participated in the first full fall season of her collegiate career — her first two were hampered by injury. She went 7-3 in singles play and 3-7 in doubles play.
 
"It was kind of new for me, which is weird as a junior to be just playing my first fall in my third year of college," Harris said. "But, it kind of reminded me of junior tennis because it's in tournament format rather than dual format where we're playing just one school."
 
Bryce said that he saw continual improvement from Harris in fall play.
 
"She's putting the work in, she's doing everything she can to become better," Bryce said. "And she's always going to give me 100 percent, and that's all we ever ask of them."
 
Harris has opened the spring season going 4-1 thus far in singles and 4-0 in doubles play. As a team, the Dukes are 6-3, having won five of their last six matches.
 
As the season continues, Harris is optimistic about what the Dukes can accomplish, building off last season when they went 14-8 overall and 2-3 in CAA play before advancing to the semifinals in the CAA tournament.
 
"This year we've got a team with a drive to do better, and the talent to do even better," Harris said. "I'm just excited to see where we're going to go. I think we have a chance of maybe having the best season JMU's ever had before." 
 
This summer, Harris plans to go back to California to work with young athletes in the Fellowship of Christian Athlete's Total Athlete Camp at the University of California, Los Angeles. Until then, Bryce will look for Harris to continue being JMU's inspirational leader throughout the rest of the spring.
 
"She's our rock sometimes, she's the one that we can really rely on to be consistent throughout the day," Bryce said. "She's a match day player, is what I'm trying to say. On match day, Becca comes with it. And everyone knows that."

Published: Monday, May 16, 2016
Last Updated: Thursday, January 4, 2018