College of Business
iMadison App Brings University Information to Your Smartphone
Bringing University Information to Your Smartphone
---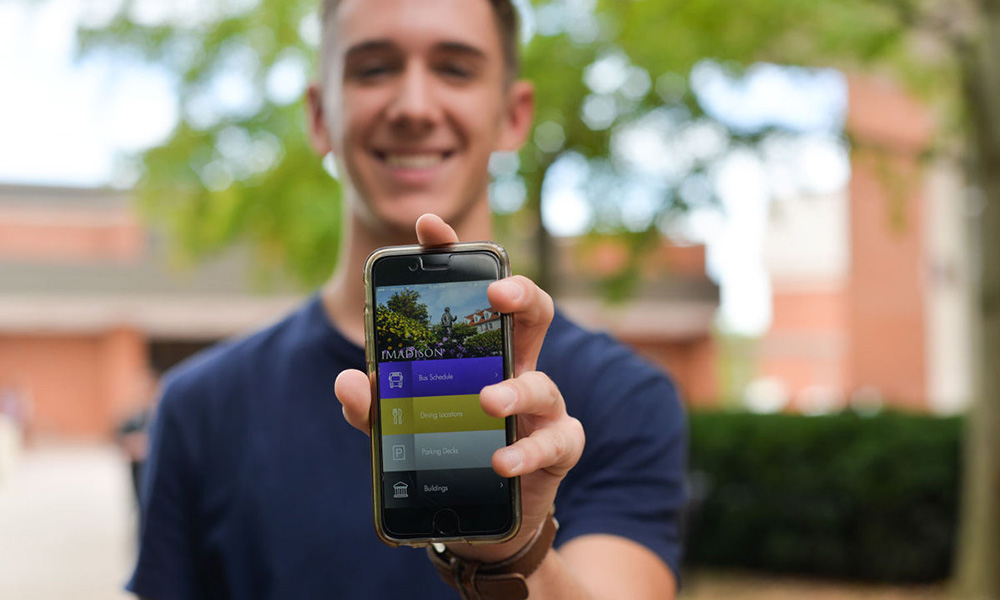 For Brian Chambers, the frustrations of getting around campus--from finding the right bus to remembering dining hall schedules--sparked an idea for a new business.
Last fall, the senior computer information systems (CIS) major rolled out iMadison, an all-inclusive app that features university bus schedules, dining information and campus parking information with real-time updates of available parking spaces in each deck. The app also includes The Breeze, JMU's student newspaper; an interactive map with building locations; and sports schedules.
"I had the idea of an all-inclusive app for JMU during my freshman year as I had issues finding the information I needed," says Chambers, of New Freedom, Pa. "It's been pretty cool to see the app's popularity grow. It's neat to be walking down the street and see someone using the app."
As an intern for Booz Allen Hamilton's strategic innovation group last summer, Chambers was on a team that developed an app for a government client. Learning how to make apps helped him move forward with developing iMadison. By joining the JMU Society of Entrepreneurs, Chambers gained valuable encouragement and guidance. For example, fellow members of the group recommended offering the app for free, and Chambers followed their advice. That boosted the app's popularity, and it currently has been downloaded nearly 6,000 times.
"I've always wanted to start my own business, but my peers in the Society of Entrepreneurs really pushed me to pursue that and sped up that process," Chambers says.
Chambers and his brother Danny, a sophomore at Virginia Tech, established GreenValley Apps, a tech startup that develops informational mobile applications to solve "common informational problems" for college students across the country. Supporting both Apple and Android devices, they also have developed iHokie for Virginia Tech  and iLion for Penn State, which also are offered free on the App Store and Google Play. By summer, they plan to release iCollege, a similar app targeting the top 10 U.S. universities.
Chambers, who will join Booz Allen Hamilton's digital team under the strategic innovation group after graduating in May, says starting his own business has brought to life for him the information he's learned in CoB courses. His only regret is that he didn't start sooner.
"Entrepreneurship is about your confidence and your mindset," says Chambers, who also is active in Alpha Kappa Psi and InterVarsity Christian Fellowship. "This is something I'm  passionate about and I'm really excited about it. If you're motivated to take that next step, then you can really achieve anything you want."
Published: Friday, May 13, 2016
Last Updated: Thursday, January 4, 2018