News
Making Connections: Alumni and Students Gather for Real Estate Symposium
---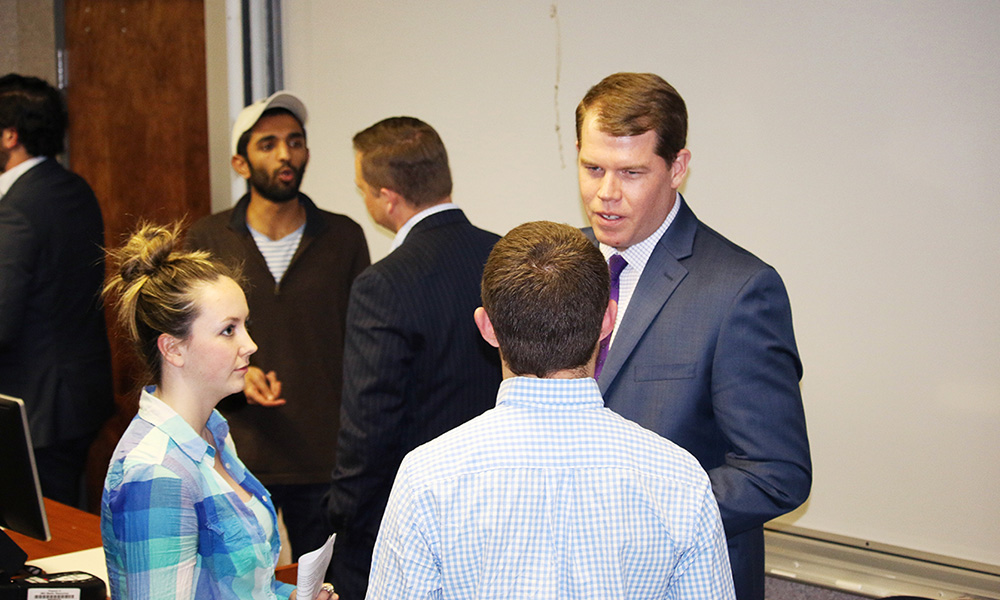 By Caitlin Fuchs
Over 60 students gathered at the College of Business on April 20 to hear from five successful JMU alumni at the Real Estate Symposium. The event, hosted by the Department of Finance and Business Analytics, exposed students to current trends in real estate and to the range of career opportunities in the industry.
Alumni panelists included: 
Kemper Funkhouser (Moderator): Adjunct Instructor of Real Estate, James Madison University; Chief Operating Officer, Funkhouser Real Estate Group
Lyle Schiavone - Analyst, American Capital Ltd.; President, Valerius Capital Partners 
Bill Chipman - Owner, CRES Inc. 
Adam Armiger - Vice President, AlumnCreek Holdings LLC
Micah Corder - Sales Associate, Washington Fine Properties
Panelists came from as far away as Washington, D.C. and New York City to share their experiences in investing, development, management and sales.
"The Real Estate Symposium gives students a unique opportunity to learn about various sectors of the industry from alums," said moderator Kemper Funkhouser. "We discuss[ed] the career paths from JMU to the panelists' current positions. The students learn[ed] about career opportunities in real estate and insights to current and future market trends."
Students were also provided time to network and discuss internship and job opportunities.
Published: Tuesday, April 26, 2016
Last Updated: Thursday, January 4, 2018