News
Deloitte Professionals Visit the CoB for Competition
---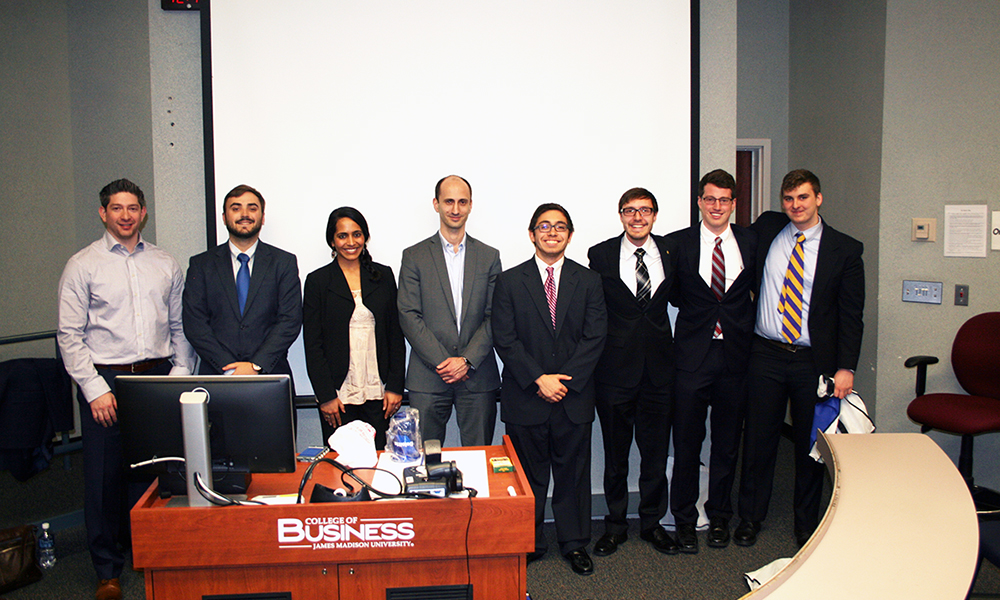 SUMMARY: Header Image, from left: Jason Gallick, Gregory Frattaroli, Dyuti Mahendru, Ussamma Baggaili, Jefferson Daeschner, AJ Logue, Will Schulte, Patrick Couvillon.
---
By Colleen Lentile 
The 12th Semi-Annual Deloitte Innovation Case Competition was held earlier this month and welcomed four Deloitte Consulting LLP professionals, including H. Schaffer Hilton, Ussamma Baggili, Jason Gallick and Dyuti Mahendru. The Deloitte professionals served as the team's mentors and the competition's judges offering the students feedback on their presentations and tips for their future careers.
Out of the six teams from Dr. Fariss Mousa's MGT 420: Management of Technology and Innovation course that competed the team comprised of Gregory Frattaroli, Jefferson Daeschner, AJ Logue, Will Schulte and Patrick Couvillon received first place (See Image 1). And the team including Michael Ginsberg, Keith Slaydon, Adam Drosdak, Rebecca Mann and Dalton Duriez were the runner-ups (See Image 2).
The students were challenged to research and create solutions to possible pressures that top-level managers could face in the corporate world. They also developed an understanding of the advantages and disadvantages of intrapreneurial boot camps, making suggestions about how an organization can achieve maximum impact.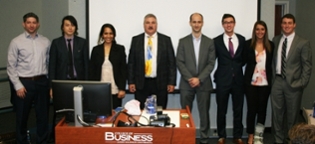 From left: Jason Gallick, Michael Ginsberg, Dyuti Mahendru, Keith Slaydon, Ussamma Bagglili, Adam Drosdak, Rebecca Mann, Dalton Duriez. 
Published: Monday, April 25, 2016
Last Updated: Thursday, January 4, 2018