College of Business
C-Suite Speaker Eric Major Demonstrates How to Be the Change
---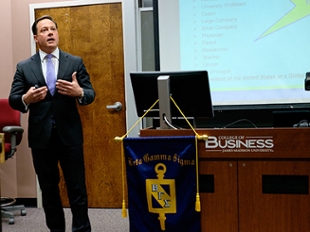 James Madison University alumnus Eric Major, '91, received the 2016 Medallion for Entrepreneurship from Beta Gamma Sigma International Business Honor Society, the global honor society serving higher education business programs accredited by the Association to Advance Collegiate Schools of Business (AACSB). This award is the highest honor Beta Gamma Sigma bestows upon a business professional, recognizing individuals who demonstrate both innovative business achievements and dedication to serving others.
Major was presented the award on April 20, following the induction of 36 new members into the JMU chapter of Beta Gamma Sigma--one of more than 560 collegiate chapters throughout the world. Following both ceremonies, Major addressed the audience as the College of Business (CoB) C-Suite Speaker.
A member of the JMU College of Business Board of Advisors, Major is president, CEO and co-founder of K2M Inc., a fast growing global medical device company that develops innovative surgical solutions for the most complex spinal conditions. Headquartered in Leesburg, Va., the company also has offices in the United Kingdom and Germany.
"No one is more deserving of this award than Eric Major," says Dr. Mary Gowan, dean of JMU's College of Business. "Eric epitomizes the ideals of JMU through his work as a successful entrepreneur and philanthropist. In addition to his ongoing support of JMU with time and financial resources, his company makes donations to indigent care and medical missions, as well as supports activities in his local community. Eric demonstrates what we mean at JMU when we tell our students and alumni to 'Be the Change.'"
With more than 20 years of experience in the spine industry, Major also co-founded and served as president and CEO of American OsteoMedix Corp. (AOM). After Interpore Cross International (now a Biomet company) acquired AOM in 2001, he served as president of the company's Minimally Invasive Division until 2002. In 2010, he received the Entrepreneur of the Year Award for Emerging Technologies in the Greater Washington, D.C., region and currently is a member of the AdvaMed CEO Advisory Council. He also serves on the Loudoun Small Business Development Center Board of Directors and on the Board of Trustees for the Westmoreland Davis Memorial Foundation, Inc., a local historic preservation organization.  
Published: Thursday, April 21, 2016
Last Updated: Thursday, January 4, 2018