News
Elias Semaan and Two Marketing Students Receive Awards at Dolley Awards
---
By Caitlyn Fuchs
Photo Credit to Stephen Foster Meyer, from the JMU Technology & Design Office
The Office of Student Activities & Involvement hosted their annual Dolley Leadership Awards banquet this past week where they recognized and celebrated the achievements of student organizations and outstanding individuals. The 'Dolley' Leadership awards are named after Dolley Madison, the wife of James Madison. This year, three outstanding members of the College of Business (CoB) were recognized: Dr. Elias Semaan and marketing students Joseph Straub and Mary Smilack.
Semaan, a professor in the finance department and the faculty advisor for the Madison Investment Fund (MIF), was the receiver of the Hall Outstanding Faculty Achievement Award. 
Straub was awarded the Carrier Award for Outstanding Personal Pursuit of Leadership Development. He was a founding member of the Delta Upsilon International Fraternity,the Student Alumni Association and the Professional Sales Club at James Madison University (JMU), and has held executive positions with each of these organizations. He has also been a contributing member to Students With Diabetes and The Relay For Life of JMU.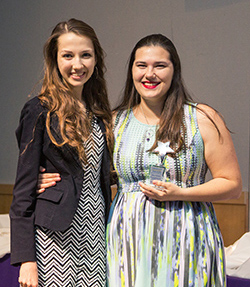 Smilack won her second Dolley Award and earned the Pepsi Scholarship Award for Substance Abuse Awareness for her work as the previous vice president and now the current president for the Sober Party, and for her work with REACH. Last year, the Sober Party won an award for Emerging Organization.
For more information about the Dolley Awards, please visit their website (https://info.jmu.edu/studentactivities/dolley-awards-2/). Congrats to our CoB recipients! 
Published: Tuesday, April 19, 2016
Last Updated: Thursday, January 17, 2019