News
Phishing for Phools: Nobel Prize Laureate George Akerlof Visits JMU
---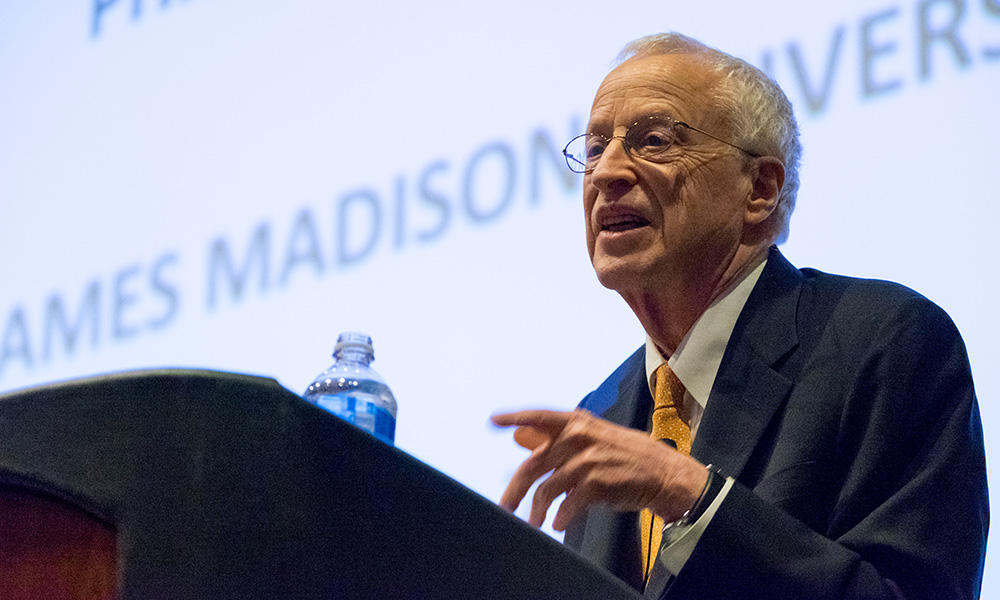 Photo Courtesy of the Warwick Economics Exchange
Nobel Prize winner George Akerlof, an American economist and professor at Georgetown University's McCourt School of Public Policy, visited JMU on April 7 to speak on his new book, "Phishing for Phools: The Economics of Manipulation and Deception," co-authored with fellow Nobel Prize winner, Robert Shiller. The book, which challenges conventional ideas about the free market, focuses on how consumers may be duped by markets that prey on their ignorance and emotional weaknesses.
Akerlof, who is the Daniel E. Koshland, Sr. Distinguished Professor Emeritus of Economics at the University of California, Berkeley, received the Nobel Prize in Economic Science in 2001, along with Michael Spence and Joseph Stiglitz. The Nobel Prize committee cited his groundbreaking paper, "The Market for 'Lemons,'" published in 1970, which illustrates through the used car market Akerlof's theory of asymmetric information and its impact on economic behavior.
Educated at Yale University and the Massachusetts Institute of Technology (MIT), Akerlof is a past president of the American Economic Association. As a former guest scholar at the International Monetary Fund, Akerlof also has been a senior fellow for the The Brookings Institution and was the Cassell Professor of Economics at the London School of Economics.
Akerlof has served as associate editor for  
American Economic Review
,
Quarterly Journal of Economics, Journal of Economic Behavior and Organization
and was a co-editor of
Economics and Politics
.
He has been senior economist at the President's Council of Economic Advisers and
holds honorary doctorates from the London School of Economics, the University of Zurich and the University of Antwerp, and Bard College. Akerlof
is married to Janet Yellen, Chair of the Board of Governors of the U.S. Federal Reserve System.
Published: Thursday, April 14, 2016
Last Updated: Thursday, January 4, 2018