News
Accounting Student Uses Diversity Conference to Talk about Disabilities
---
By Annamarie Nyirady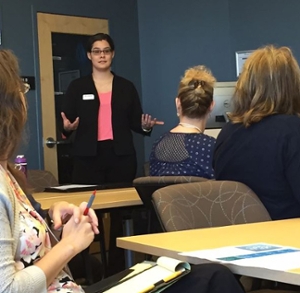 Samantha Powell from the College of Business (CoB) Student Diversity Council recently facilitated two panels exploring the unique issues faced by students with disabilities at the recent Student Diversity Conference.
On March 16, the faculty-focused panel "Bridging the Gap Between Students and Faculty: Discovering the Abilities in Disabilities," was hosted by James Madison University (JMU). Because the lecture was primarily for faculty members, there was an emphasis on supporting student inclusion and proactive communication. Panelists also discussed the importance of covering the Americans with Disabilities Act (ADA) on their syllabi as well as the use of accessible multimedia content for use in online teaching. Dr. John Guo, Computer Information Systems (CIS) Professor and panelist, was excited to further understand "how instructional faculty can be emotionally helpful in the learning experience of a student with [a] disability."
During the "Exploring the Value of Disability Disclosure in the Workplace," the importance of positive rhetoric was stressed through the concept of "People First Language" - emphasizing the person first, and then the disability. This rhetorical concept proves to be a powerful tool for productive dialogue.
Both audiences contained students, faculty and administrative staff and according to a post-panel survey, 93.75% of people found the panel was a valuable use of their time. An attendee stated that, "We're not going to make progress, if we don't talk about disabilities." Powell made a valuable impact on the JMU community,  and is "looking forward to learning from this experience and making improvements for future panels." 
Published: Tuesday, April 12, 2016
Last Updated: Thursday, January 4, 2018