News
Planning for Success: Oak Bar Takes First Place at the 2016 Jackson-Rainey Business Plan Compeitition
---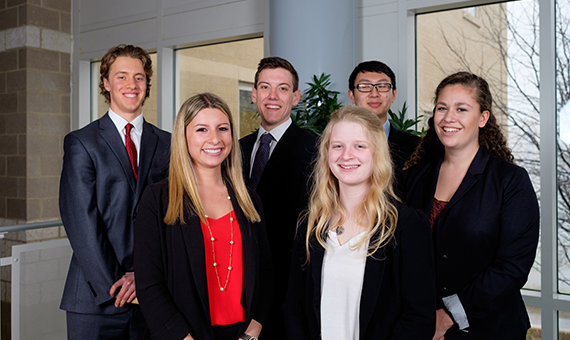 For 38 James Madison University (JMU) students who took the COB 300 course, the final rite of passage was completed on Saturday, March 19 with the 14th annual Jackson-Rainey Business Plan Competition. The team that pitched The Oak Bar, a single pour wine kiosk that provides local wines to festivals, events and private parties, received the top prize. Team members Emily Platt, Carly Marx, Lindsay Combs, Justin Koch, Christopher Snow and Ruotian Zhang--all juniors--will split more than $5,500 in scholarships.
The six teams that competed were the last ones standing after several rounds of judging over 100 business plans created by their peers during one of last year's three sections of COB 300--a required, 12-credit course that integrates the fundamentals of finance, management, marketing and operations. The course develops entrepreneurs and business leaders by allowing students to apply concepts learned in the classroom to real-world scenarios.
This year's prizes and scholarships totaled over $25,000, generously provided by JMU graduates and former Executive Advisory Council members Wayne Jackson, Class of '85, and Don Rainey, Class of '82. In addition to the first-place winners, this year's proposed businesses were: Dune Buddies, a manufacturer of motorized beach wheelchairs and other assistive medical devices (2nd place); Button Box, LLC, an eCommerce children's clothing rental subscription box service (3rd place); TranSolar, LLC, an eco-friendly solar panel installation company that provides a way to leverage fuel-saving technologies by transforming solar energy into power for semi-trucks (4th place); SunCharged, LLC, a manufacturer of solar backpacks that charge electronic products stored inside (5th place); and Greenlease, LLC, a company that leases plots outside of Minneapolis, Minn. for individuals to grow organic produce for personal consumption (6th place).
Emily Platt, a member of the winning team, received the Ferguson Top Female Leader Award, which was made possible by a gift from former business plan competition participant, Katherine Ferguson, Class of '04.  Platt was also one of four participants that received an MVP award; the other MVP winners included Sebastian Salinas, Erin Desbiens and Ben Whitney. Other awards included: the Accenture Innovation Award for the best idea to TranSolar LLC; the Team Award to Button Box LLC; and the Audience Choice Award to both Dune Buddies and The Oak Bar.
Beyond the opportunity to win cash prizes and scholarships, the Jackson-Rainey Business Plan Competition provides students with professional experience in a setting that resembles a venture capital fair in which aspiring entrepreneurs pitch ideas to potential investors. Students develop poise and confidence while gaining valuable coaching and constructive feedback from seasoned business leaders.
Management professor Fernando Pargas, the COB 300 coordinator, says that the business plan competition, as well as the COB 300 course in general, instill the knowledge and cultivate the leadership skills that put JMU business graduates ahead of the pack.
"In business, every decision, every strategy involves all four of these disciplines,"Pargas says. "We believe that business is holistic, and the business plan component is a tool that helps students understand how these four disciplines impact each other. As a result, our students are better suited to think about the bigger picture and to understand the interconnections of business as a whole. This course and the business plan competition prepare our students to be effective business leaders in the future."
2016 Competing Teams:
1st Place - The Oak Bar
Emily Platt, Carly Marx, Lindsay Combs, Justin Koch, Christopher Snow, Ruotian Zhang
2nd Place - Dune Buddies
Katie Leeser, Jonathon Mimm, Chris Parsons, Jack Peterson, Sebastian Salinas, Anton Zeltser
3rd Place - Button Box, LLC
Erin Desbiens, Amy Edler, Caitlin Fuchs, Russell Levine, Taylor Perretti, Shirali Shah, Ryan Talento
4th Place - TranSolar, LLC
Jacob Bowen, CK Esche, Lauren Field, Matthew Hobson, Timothy McNeish, Reza Saadvandi, Jennifer Zackoff
5th Place - SunCharged, LLC
Ryan Goldrick, Rachel Kirbabas, Ryan Miller, Joe Passariello, Brian Presler, Rachel Reinhardt
6th Place- Greenlease, LLC
Andrew Bass, Gina Bavagnoli, Steve Hildner, Jake Kirby, Sean O'Rourke, Ben Whitney
Judges:
Don Rainey, General Partner, Grotech Ventures

Mike Battle, President, Battle Resource Management, Inc.

Katherine Ferguson, Vice President of Business Development, Cooley LLP

Lois Forbes, Former Senior Vice President, Forbes Development and LBJ Limited

Wayne Jackson, CEO, Sonatype
Published: Thursday, March 24, 2016
Last Updated: Thursday, January 4, 2018