News
Promoting Resilience
JMU Business Students Attend Emerging Creatives Student Summit
---
SUMMARY: RISE Summit brings students from different disciplines together to promote creativity in their communities.
---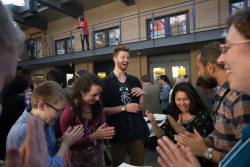 Two James Madison University (JMU) business students were among seven selected from the University to attend the 2016 Emerging Creatives Student Summit, RISE: Forging Resilient Communities. Junior marketing majors Anna Eiring and Michael Alexander Morris attended the conference,which was focused on developing creative, sustainable solutions to boost economic development and improve quality of life in U.S. communities and abroad. Sponsored by a2ru (Alliance for the Arts in Research Universities), the conference was held March 9-11 at the University of Michigan.
This is the first year that business and engineering students were invited to participate in the conference with art students. Participants were divided into teams to work on projects with potential to transform and revitalize communities. At the same time, they developed skills and knowledge that could be applied to their campus communities.
"JMU offers experiential learning opportunities that take students out of the classroom and into new experiences beyond campus life," says Carol Hamilton, director of JMU's Center for Entrepreneurship, which provided the scholarships allowing Eiring and Morris to attend the conference. "Students are invited to explore different fields of study, work with diverse thinkers and engage in transformative, interdisciplinary experiences at the local, state, national and global levels."
Eiring, of Smithfield, Va., who also is pursuing a minor in writing, rhetoric and technical communication, adds:  "This conference gave us a chance to really get outside of our comfort zones and gain knowledge just by experiencing new things and meeting new people."
Morris was inspired listening to the experiences of people who had used their talents and skills to make their communities better through projects such as public art displays or public transportation improvements. He believes the JMU community can benefit in similar ways when students from different majors are encouraged to collaborate to solve problems.
"When different people from different backgrounds come together with a common goal--whether it be cleaning up litter on campus or trying to help the less fortunate in our community--the possibilities become both broader and more attainable," says Morris, of Branchburg, N.J., who is a music industry minor. "By sponsoring this trip, JMU not only showed me that it wants me to succeed as a student and later in life, but it really helped broaden my mind in a unique way. After meeting so many diverse, intelligent and motivated students, I feel I've gained a perspective that I never would have otherwise. I am confident in saying that the inspiration and motivation I got out of this summit could not have been taught in a classroom."
Published: Thursday, March 24, 2016
Last Updated: Thursday, January 4, 2018