News
The Art of the Exchange: JMU Professor Fascinated with the Always-Changing World of Marketing
---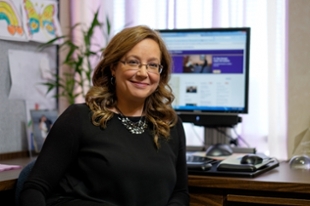 Theresa Clarke's passion for marketing began when she was a child running lemonade stands, helping her sister sell Girl Scout cookies and working in her father's retail store. Intrigued by the complexities of "helping two parties make a satisfying exchange with one another," Clarke became a marketing scholar who enjoys nurturing the talents of her students at JMU.
"These early experiences helped me uncover my passion for marketing," says Clarke, who joined the College of Business (CoB) faculty as a marketing professor in 2001. "Since that time, I have explored marketing theoretically and practically, over many years to where marketing is operating today—in a complex, data-driven, digital, mobile and global environment. It's a dynamic and exciting field."
A pioneer in the development of interactive marketing courses at both JMU and Old Dominion University, where she previously was a professor, Clarke strives to make the difference for her students by giving them hands-on opportunities to practice the fundamentals of marketing. In her MKTG 477: Internet Marketing Practicum course, for example, students develop and run online advertising campaigns for businesses or non-profit organizations as they compete in the Google Online Marketing Challenge. 
"The students are so excited to learn and do something real," says Clarke, who has been published in numerous academic journals and is co-editor of Advances in Electronic Marketing. "They get to run a live campaign for a business, and that gets them really excited. I love working with students in that particular dynamic. We end up helping small businesses or non-profits with their marketing, so it's really a win-win for the students and the businesses they work with. I find that kind of teaching very gratifying."
Clarke was a finalist for the 2016 State Council of Higher Education for Virginia (SCHEV) Outstanding Faculty Award. She also received the O'Hara Leadership Award from the Direct Marketing Association of Washington Educational Foundation (DMAW/EF) for her efforts to incorporate direct interactive marketing in the classroom. Clarke, who holds the Wampler-Longacre Eminent Scholars Professorship in Marketing, was the 2008 CoB Madison Scholar and a two-time recipient of the CoB's Kenneth Bartee Innovation in Teaching Award.
Clarke, whose research is focused on pay-per-click advertising, social media marketing and marketing education, is faculty adviser for the Madison American Advertising Federation. She also coaches students in the Marketing EDGE and DMAW/EF integrated marketing communications competitions, advises undergraduate research and honors projects, and mentors a new faculty member at JMU.
In every encounter with students—in the classroom or during private office appointments—Clarke emphasizes the importance of lifelong learning. She strives to give students the tools and resources to continually enhance their skills, grasp new technologies and techniques, and network with other professionals in the field.
"In marketing, it's important to understand that we operate in a very dynamic and highly networked environment, and if students want to become successful marketers, they must commit to lifelong learning," says Clarke, who enjoys spending free time with her husband Bud and 9-year-old son Irvine. "I can teach students the foundational concepts, but because things change so rapidly in marketing, learning should never end."
Published: Monday, March 21, 2016
Last Updated: Thursday, January 4, 2018