College of Business
Staying Connected: Philip Bennett Offers Professional Expertise to Support JMU's College of Business
---
By Karen Doss Bowman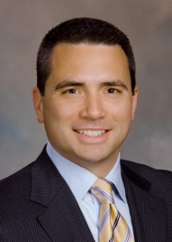 Philip Bennett, Class of '92, is grateful for the career preparation he received as a student in James Madison University's (JMU) College of Business (CoB). These days, he's sharing his professional expertise with the university, both as a member of the CoB Advisory Council and as a lead campus recruiter for KPMG, seeking to hire JMU's most talented business students for his employer.
According to Bennett, JMU is one of about 30 colleges and universities nationwide where KPMG has focused recruiting efforts for full-time positions, as well as internships and externships. JMU CoB graduates are considered poised and ready to become star employees upon graduation.
"I have the opportunity to get to campus more often than most alumni, and I really feel plugged into what's happening at the College of Business," says Bennett, of Richmond, Va. who earned a B.B.A. in accounting. "JMU students are well-rounded and socially adept. They are smart, but they also can hold a conversation. They are the kind of people you want to be around. At KPMG, we are looking for graduates who are smart, but who also know how to talk to clients, work productively in teams and be self-motivated. That part is hard to teach in the classroom. That's where attracting the right students and creating the right environment for them to practice these crafts is important to their success after college. JMU excels at that."
Bennett joined KPMG, one of the world's Big Four accounting firms, upon graduation from JMU. A Certified Public Accountant (CPA) and Certified Information Systems Auditor, Bennett is the national service line risk management partner for KPMG's IT Advisory practices, including Technology Enablement and Cyber Security. He has worked with numerous high-profile clients, including the American Red Cross, CarMax, Sirius XM Radio and The World Bank.
Bennett has served on JMU's School of Accounting Executive Advisory Council and the CIS Advisory Council, and is the immediate past chair of the Richmond Symphony Board of Directors. He and his wife, Tara, have two children: Lauren, 10, and Henry, 6.  
Looking back on his time as a student at JMU, Bennett appreciates that then, just as now, the CoB upheld high academic standards that prepare students for professional and personal success.
"I had to work hard to get through my classes in the College of Business, but I've grown to appreciate my professors more over time," says Bennett, who earned a master's degree in management information systems from the University of Virginia. "Working hard to do the coursework creates discipline and exercises the parts of the brain that need it. Back then, I was trying to get through school, but now I realize my professors had an impact on me by making me work hard and by caring about me."
He pauses and adds, "It makes me want to come back."         
Published: Monday, March 21, 2016
Last Updated: Thursday, January 4, 2018