News
JMU Sigma Iota Epsilon Chapter Welcomes 10 New Members
---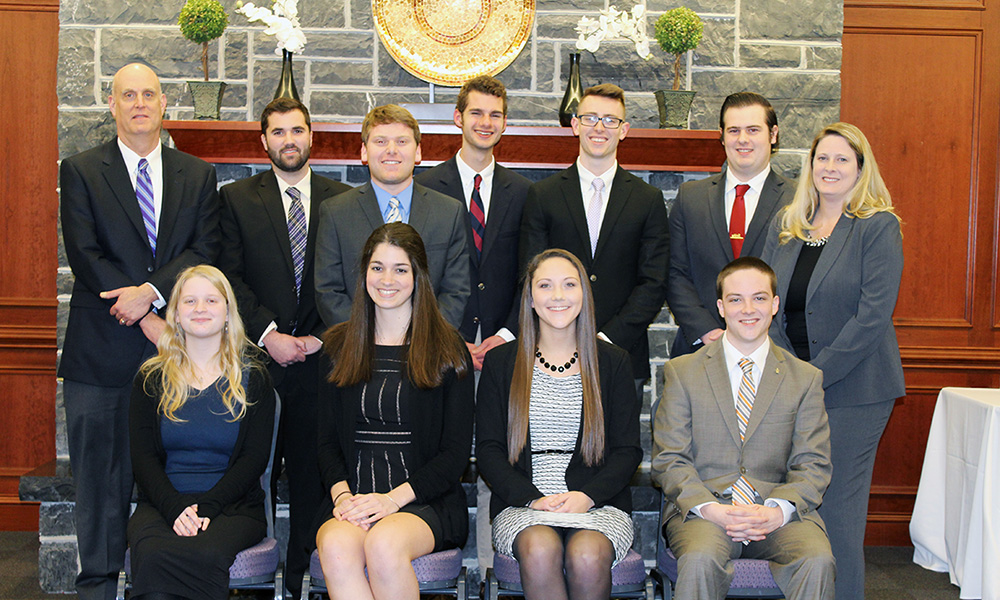 The James Madison University (JMU) chapter of Sigma Iota Epsilon (SIE), the national honorary and professional management fraternity, inducted 10 new members on Wednesday, Feb. 17.
The organization recognizes academic excellence in management studies while providing opportunities for management students to interact with practicing managers. Membership is extended by invitation-only to initiates with a minimum 3.25 GPA.
Mary Gowan, Ph.D., dean of JMU's College of Business, spoke at the event to welcome the new members and encourage their continued achievements. A member of SIE, Gowan was instrumental in founding an SIE chapter at UNC Charlotte.
JMU's SIE chapter, which was established last year, has hosted numerous activities to support the Department of Management and the College of Business during its first year, including an information session for freshmen and sophomores interested in the management major. SIE members participated in focus groups to offer feedback on curriculum changes in the management major and volunteered at Mercy House for the CoB MLK Day of Service. They also sponsored a resume review session for all management majors.
"It's fantastic that we have an organization at JMU to recognize academic excellence in management," says management lecturer Dan Zisk, who co-advises the JMU SIE chapter with Chris Roeder, also a lecturer in management. "Being part of this organization will allow our high-achieving management majors to apply the skills they are learning about in the classroom to an organizational setting."
The newest inductees for JMU's SIE chapter are:
Walker Aspinwall
Evan Beach
Lindsay Combs
Elizabeth Maiorana
Alex McGuire
Erick Morales
Jacob Necamp
Mac Outlaw
Emily Rawlings
Robert Ston
Published: Wednesday, February 17, 2016
Last Updated: Thursday, January 4, 2018