News
The Standout Resume: Management Students Get Help Writing Resumes That Get Noticed
---
Co-authored by Annamarie Nyirady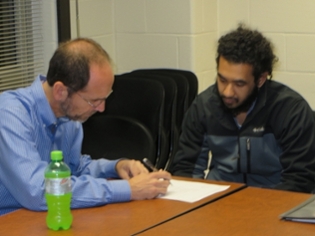 Getting noticed is critical to any job search, and that starts with a strong resume.
James Madison University's chapter of the Sigma Iota Epsilon (SIE) Honors Fraternity, the national honorary and professional management fraternity, hosted a resume and LinkedIn review on Feb. 3 to help students majoring in management showcase their experiences and skills for potential employers. Co-hosted by JMU's chapter of the Society for Human Resource Management (SHRM), the event drew nearly 70 freshmen, sophomores, juniors and seniors.
After submitting their resume for a peer review, each student was given the opportunity for a one-on-one session with management faculty members who offered invaluable advice for developing competitive resumes. Additionally, students from the SHRM chapter offered tips for producing effective LinkedIn pages.
The event offered an opportunity for students to connect with their peers within the same major, as well as to build relationships with faculty members, says Chris Roeder, the SIE faculty adviser. They received invaluable advice specific to careers in management.
"The students received multiple perspectives on what makes a great resume," Roeder says.  "They normally wouldn't have easy access to multiple people reviewing their resumes at one time. Every major has a slightly different criteria as far as the skill set that employers want to see, and the students who participated received a unique management perspective."
Published: Tuesday, February 16, 2016
Last Updated: Thursday, January 4, 2018