News
Co-Owner of Local Microbrewery Inspires Students to be Entrepreneurs
---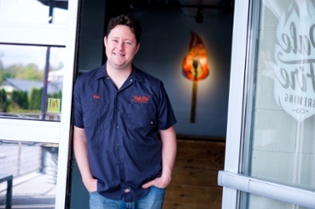 This year, the Center for Entrepreneurship has been hosting a guest speaker series titled, "Be Your Own Boss." Last week, Tim Brady, co-founder of Pale Fire Brewing Company, came to speak about the trials and tribulations of starting a successful business.
Brady spoke to students about his past career in the service industry and how the skills he learned have transferred into his current business. Brady linked up with co-founder Jamie Long in 2013 and got into the growing microbrewery trend by starting Pale Fire Brewing Company. His time as a bartender provided him with the opportunity to connect with the people of Harrisonburg on a personal level.
Later, once he created a business plan and decided he wanted to form his own company, he used his networking skills to become fully funded by private investors. Brady's family, friends and co-founder, Long, helped make his dreams a reality.
Brady had a lot of advice for young entrepreneurs looking to start a business. His most important piece of advice was to be nice to everyone. He believes that you should talk to everyone you know when deciding you want to start a business, but to be prepared to hear the word "no."
Brady also told the audience that being nice and respectful will benefit young entrepreneurs immensely when working with professionals. He suggested that people are more willing to work with someone who is both respectful and willing to go the extra mile. Brady is a perfect example of how hard work and networking can boost success in the business world. Be on the lookout for more successful local entrepreneurs coming to speak at JMU this semester!
Published: Thursday, February 11, 2016
Last Updated: Thursday, January 4, 2018