College of Business
Back Home Again: JMU Alumnus David Thomas Joins the Inaugural Cohort of the Executive Leadership MBA Program
---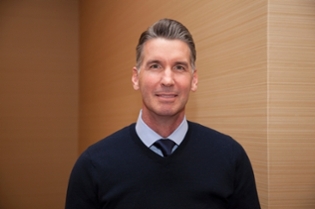 David Thomas, class of 1988, understands that educational credentials matter in the business world. A seasoned sales professional with nearly 30 years of experience, Thomas enrolled this past fall in the inaugural class of JMU's Executive Leadership MBA (ELMBA) program, hoping to position himself as a competitive candidate for C-Suite opportunities within his company.
"My successful professional sales career in a globally competitive marketplace has put me in touch with some of the best and brightest people who have a passion for learning," says Thomas, a vice president and senior advisor consultant with Oppenheimer Funds Distributor Inc. "Their passion was infectious enough to solidify my decision to formally pursue my MBA. It just took me 27 years to figure it out—but better late than never."
Thomas, who earned a B.B.A. in finance from JMU, joined OppenheimerFunds in 1994, starting as an associate manager based in New York City and working his way up the ranks to his current position. Thomas, whose annual sales total more than $430 million, was named Mid-Atlantic Wholesaler of the Year in 2009 and 2010. Last year, he was selected to serve as a team leader for OppenheimerFund's philanthropic efforts in Salvador, Brazil, working with local children in an orphanage and in a Catholic school.
Just two courses into the ELMBA program, Thomas says he already has gained practical knowledge and greater insight into his strengths as a manager. He also appreciates the collaborative spirit among his classmates in his ELMBA cohort.
"The MBA curriculum is not about studying research and theories that never see the light of day out in the real world—this is about academics being applied to real-world situations," says Thomas, who is active in the Duke Club and a regular participant in JMU alumni events in Northern Virginia. "By conducting research with my cohorts, we are able to test our skills with each other before we take them to our own workplaces. The teamwork and communications that are tested and grown within this learning construct have been priceless."
While completing the ELMBA will certainly boost Thomas' professional credentials, he also finds the courses personally rewarding. He and his wife, Amy, want their daughters—Morgan, 12, and Noelle, 9—to understand that the greatest purpose of education is to improve one's quality of life.
"My daughters are tickled that Dad is going back to school," says Thomas, who lives in Arlington, Va. "They enjoy reminding me that I need to do my readings, just like they have to do their reading. They see me doing what I'm doing, and they realize that even Daddy has more to learn. I'm hopeful that my girls will see that learning is a journey that lasts throughout your life."
Published: Monday, February 8, 2016
Last Updated: Thursday, January 4, 2018