College of Business
A Servant's Heart: Professor Daphyne Saunders Thomas Inspires Students to Be the Change
---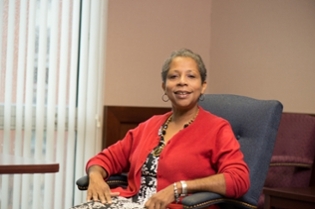 Much of Daphyne Saunders Thomas' life has been inspired by a famous quote from the late Rev. Martin Luther King Jr., who once asked an audience to consider, "What are you doing for others?" In every interaction with students, Thomas hopes to spark a desire to be a light to others who are less fortunate.
"While learning the content of my courses is obviously critical for students, the major takeaway I hope they gain is the understanding that we can all serve," says Thomas, the Adolph Coors Professor of Business Administration. "We can all serve and make a difference in other's lives by having a heart full of grace."
Thomas leads College of Business (CoB) students by example. As the faculty adviser for the James Madison University (JMU) CoB Student Diversity Council, Thomas organized the recent MLK Day of Service that brought together CoB students, faculty and staff to carry out more than 25 service projects throughout Harrisonburg and Rockingham County.
Thomas, who earned a J.D. degree from Washington and Lee University School of Law, joined the CoB faculty in 1981. While teaching full time, she also completed her MBA at JMU. She was the first African American to be hired as a tenure track professor in the CoB, as well as the first African American and first woman to earn tenure in the CoB. Thomas has received numerous recognitions on campus, including the JMU Distinguished Service Award, College of Business; the University Diversity Enhancement Award; and the College of Business Community Service Award. She also received a JMU Favorite Teacher Award in 2010.
The chair of the JMU CoB Diversity Council, Thomas is co-founder and co-director of the CyberCity Summer Program, an award-winning summer technology program for middle and high school students from underrepresented populations. Thomas also is chair of the Community Service Board and serves on the boards of numerous non-profits, including Sunnyside Communities, the Harrisonburg-Rockingham Community Foundation, the Harrisonburg Electric Commission and the Jamestown/Yorktown Foundation. She is an active member at Harrisonburg First Church of the Brethren.
Thomas often invites former students, now established in successful careers, to come back to speak to her students. While she is proud of their professional accomplishments, she is even more thrilled to hear them talk about ways they are now serving their communities.
"A person doesn't just wake up one morning and realize they have a servant's heart—that's cultivated over a period of time," says Thomas, who also enjoys spending time with her daughter Rachel and granddaughter Amaya. "So when we as teachers and advisers can create that value and that priority in students' lives now, they'll carry it with them into their careers and into their communities. This starts at JMU, and it perpetuates, so it's gratifying to me to hear from them and to see that they're still doing these things that make an outstanding difference."
Published: Monday, February 8, 2016
Last Updated: Thursday, January 4, 2018