News
Exceeding Expectations: Michael Jacob was a Standout Summer Intern
---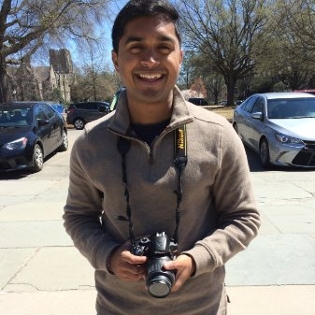 If you see Michael Jacob falling asleep in Carrier Library, do not disturb him. He's likely at work for FitBit, the company known for creating wearable health and fitness devices.
The senior computer information systems (CIS) major—known on campus as "MJ"—is working on technology that could be applied to FitBit devices to prevent people from falling asleep while driving. He's in the research stages, monitoring the dips in his own heart rate as he falls asleep. The data he collects will be used to develop an algorithm that could detect with 95 percent accuracy when a person is starting to fall asleep. A FitBit wristwatch outfitted with the technology, for example, would detect the decrease in the wearer's heart rate if the person starts falling asleep and subsequently would trigger a light vibration to jostle them back to attention.
The work is part of a project Jacob started as an intern at Booz Allen Hamilton (BAH) last summer. He and his business partner—a Harvard engineering student—won the firm's Incubator Award for the project. They began their partnership with FitBit last fall.
"I'm passionate about coming up with ideas, and I quickly learned that CIS isn't all about sitting behind a desk and coding on your own," says Jacob, of Chantilly, Va.  "JMU's College of Business (CoB) has really equipped me with the skills to create an idea, establish a plan and implement that plan into a framework that will lead to a successful business model."
Jacob also was part of a small team of interns at BAH that received the Summer Games Award for their project developing a device to detect a human heartbeat in shipping containers to help prevent maritime human trafficking. Engineers at BAH are continuing the project in partnership with NAVAIR, the U.S. Naval Air Systems Command.
Jacob, who also interned for BAH during the summer of 2014, currently works part time for the firm and after graduation will move into a full-time position as an information technology strategist. For now, he's enjoying his last few months at JMU, where he is involved in numerous campus activities, including the Student Government Association, InterVarsity Christian Fellowship and volunteering with JMU SafeRides. He is leading an alternative spring break trip to Atlanta, Ga. that is focused on the social issue of human trafficking.
Jacob credits his courses in the CoB for preparing him to collaborate with a team of professionals and cultivating his interpersonal skills.
"I received my offer from Booz Allen Hamilton by exceeding expectations through two summer internships," says Jacob, who was elected Mr. Madison for JMU's Homecoming 2015. "The qualities they value the most about me are my interpersonal skills, technical knowledge and ability to use my positive energy to further team cohesion. JMU's College of Business helped to solidify those abilities, and my experience here gives me confidence to move forward in my professional life."
Published: Monday, February 1, 2016
Last Updated: Thursday, January 4, 2018