News
Sales Students Close the Deal
---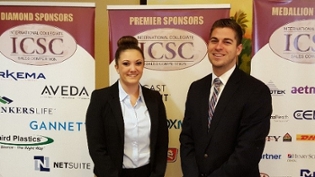 The four winners of the JMU Internal Sales Competition sponsored by the Professional Sales Club and the Center for Professional Sales recently competed at national and international intercollegiate sales competitions.  Competitions include sessions like: career boot camp, sales-role play events, speed-selling competitions and networking opportunities.
The team of Alexandra Ender and Jon Daly represented JMU at the International Collegiate Sales Competition in Orlando, Fla. in October with each placing near the top half of the over 120 competitors.
While other students were dreaming about Thanksgiving break, Nicole Asaban and Olivia Deputy honed their selling skills and formed the team that competed at the National Sales Challenge in New Jersey Nov. 18-20. More than 100 college students representing 36 universities from across the country, as well as from Edinburgh Napier University in Scotland, participated in the competition which was designed to strengthen students' sales skills and offer opportunities to network with business executives from companies around the country. A record-breaking 90 executives from 16 sponsor companies from technology, healthcare, industrial distribution, retail, engineering, automotive, fashion and infrastructure sectors participated this year in the National Sales Challenge.
Asaban and Deputy were one of only six universities to have both team members advance to the second round of the role play competition.  The team also placed 8th overall in both the role play and speed selling competition.  Asaban placed 8th overall out of the 100 competitors.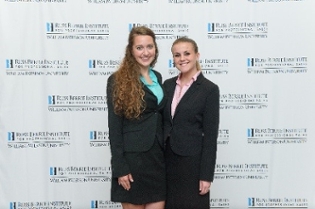 The real winnings from both competitions came from the career opportunities with companies such as Gartner, HPE (formerly Hewlett Packard), UPS, Janus Group, Comcast and TEK Systems.  JMU competitors came back with multiple offers and are still being pursued by these organizations.  The future looks bright.  According to Dr. Andy Wood, team coach and Interim Director of the Center for Professional Sales, the other benefit of these competitions is exposing world class companies to talented JMU students. 
"As a direct result of our participation in the competition, we now have companies such as Gartner, HPE, Aetna and UPS coming to campus to recruit even more Dukes," said Wood.  
Next spring, JMU will be hosting another Internal Sales Competition with the winners participating in the National Collegiate Sales Competition as well as the inaugural Toledo Invitational Sales Competition. 
Published: Monday, December 7, 2015
Last Updated: Wednesday, October 19, 2016