News
Corporate Social Responsibility in the College of Business
---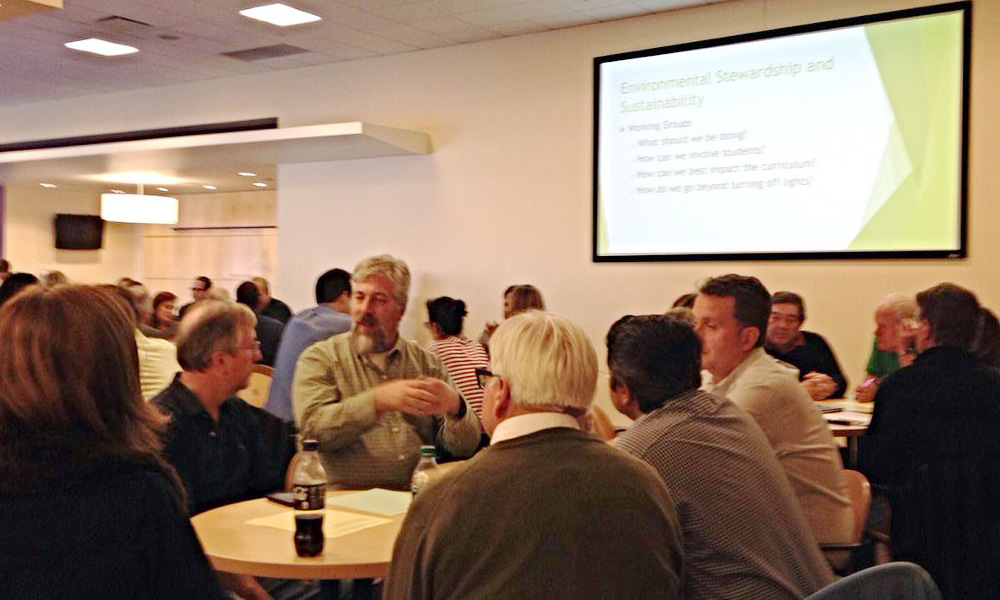 The College of Business (CoB) Town Hall meeting held on Friday, Oct. 30, in the Bridgeforth Stadium hospitality suite was brimming with meaningful discussion and collaboration among faculty and staff. The meeting's primary focus was on efforts in promote environmental stewardship and corporate social responsibility.
Faculty members engaged in group discussion in order to generate innovative ideas on how the CoB could reach its goal of developing policies that integrated responsible practices into daily business operations while supporting a culture of corporate social and global responsibility within the college and community at large.
Suggestions for increased corporate social responsibility included the implementation of a CoB Service Day and the adoption of a local highway by the College. In terms of environmental stewardship initiatives, several ideas were presented from water bottle refilling stations to the use of motion censor lights and adjustable thermostats in classrooms and offices in Zane Showker Hall to reduce energy usage. The CoB will explore these ideas further in the coming months.
The ideas and topics discussed in October's town hall meeting followed September's Town Hall which focused on ethical reasoning in action. During the meeting, held on Sept. 25, the CoB faculty were provided with a crisis scenario and 10 possible plans of action. Faculty divided into groups to choose the most ethical problem solving response based on the Madison Collaborative's Eight Key Questions and CoB values. The Eight Key Questions revolve around Fairness, Outcomes, Responsibilities, Character, Liberty, Empathy, Authority and Rights.
Published: Monday, November 30, 2015
Last Updated: Thursday, October 20, 2016