News
Beta Alpha Psi's JMU Chapter Sets Sights on Excellence
---
By Matthew D'Angelo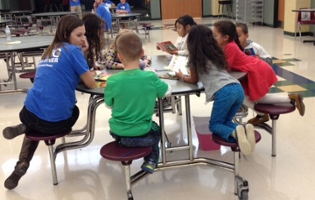 The Eta Delta Chapter of Beta Alpha Psi is going for gold. After over 17 years of being listed as a "superior status" chapter, the JMU branch of the international honors organization is hoping to further distinguish itself by completing one of the organization's most difficult challenges-- the Gold Challenge.
Last year, only 11 chapters worldwide mastered the Gold Challenge. Chapters were judged on submitted videos depicting their operations and activities that went above and beyond the requirements of superior status. Superior status was also a high honor as it required chapters to excel in areas ranging from service activities to the chapter's annual end-of-year report.
Eta Delta's president, Scott Archer, thinks that his chapter has a solid chance at making the jump from superior status to gold this year.  
"I think it's really realistic for us," said Archer. "The standards we've set require members to go above and beyond what the superior standards are; so it should be doable for us."
Archer's comments are true-- superior status calls for a combined 32 service and professional activity hours per member while the Eta Delta chapter at the College of Business asks its members for at least 40 hours. Professor Eileen Shifflett, one of Eta Delta's two advisers, feels that these strict standards set by the organization's leadership are what will distinguish the JMU chapter.
This success certainly stems from the chapter's events, which include two professional meetings a week and a multitude of service opportunities. Recently, Eta Delta paired up with corporation KPMG and headed to Smithland Elementary School to read to children. It was a great day for JMU students to give back to the community while also connecting with members of a major corporation.
"We partner fairly frequently with some of the firms to do service events," said Shifflett. "They help us with our service events--it's kind of a neat relationship that you don't see very often."
Eta Delta's commitment to developing its member's service experience and professional skills will hopefully land them on the list of gold challenge winners by this May.
Published: Monday, November 30, 2015
Last Updated: Thursday, October 20, 2016