News
College Executive Advisory Council Celebrates 30 Years
---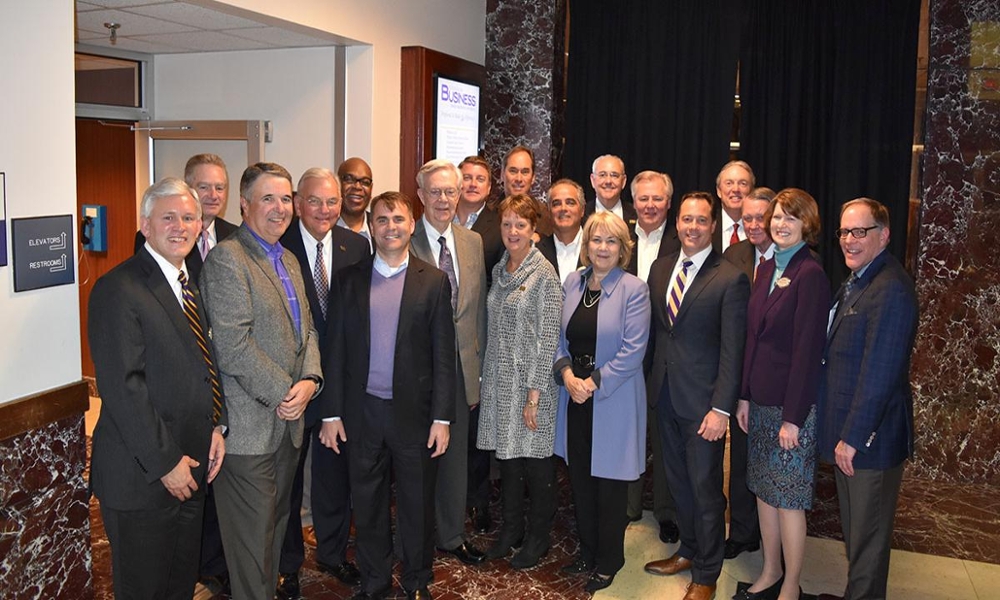 On the same weekend as ESPN College Game Day and Homecoming, another celebration took place on the JMU campus. On Friday, October 23, 2015, former deans Robert Holmes and Robert Reid joined Dean Mary Gowan and past and current members of the Executive Advisory Council (EAC) to celebrate the group's 30th anniversary. President Jon Alger and Provost Jerry Benson thanked the group for their many contributions in helping create a nationally recognized College of Business.
During the program that preceded dinner, Holmes described the beginnings of the EAC, now known as the Board of Advisors (BOA). Other members of the first EAC present included Sandy Berry, Joe Funkhouser and Jack Broaddus. The EAC's early members were primarily local business executives.  Over time, the EAC transitioned to become a national board with both alumni and non-alumni members.  Reid and Berry provided additional history about the work of the EAC.  Former chair Maribeth Herod described the current role of the EAC (now BOA) in supporting the work of the College. 
Dean Mary Gowan provided updates on current activities of the College, including the plans for a renovation and expansion of Zane Showker Hall. Known as the College of Business Learning Complex, this construction project will double the size of Showker and provide much needed space for classes, faculty and collaborative space for the current activities of the College.  Board member Enrico Gaglioti and Board chair Jarl Bliss concluded the formal program sharing why they have chosen to make lead gifts for the Learning Complex project. 
Former Board chair and current Rector of the JMU Board of Visitors Mike Thomas ended the festive evening with a toast celebrating the past and future of the Board.
Published: Friday, October 23, 2015
Last Updated: Thursday, October 20, 2016