News
Sigma Iota Epsilon comes to JMU's College of Business
---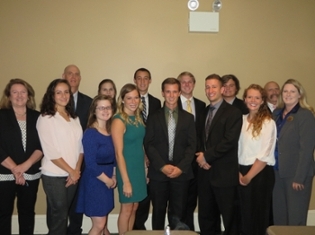 We are excited to announce the formation of James Madison University's Beta Upsilon Chapter of Sigma Iota Epsilon! The mission of this national honorary and professional management fraternity is to encourage and recognize scholastic excellence, as well as to promote cooperation between the academic and practical aspects of management.
The induction dinner was held on September 16, 2015 at Spotswood Country Club. Dr. Art Rasher from the University of Tulsa was in attendance to represent the national organization, while Dr. Mike Busing attended to represent the College of Business (CoB) Dean's office. The first 10 inductees included Dalton Malaby, Genevieve Bestercy, Ryan Wyeth, Allison Gibson, Jacob Conley, Avery Hart, Kate Ely, Chris Horneman, Eric Thornhill and Blanca Alvarez Castro.
Professor Dan Zisk and Professor Christina Roeder will be the faculty advisors for the organization here in the CoB. Members will act as the student advisory board for the management department and as consultants for local organizations. Additionally, students will help facilitate connections between students and practicing managers and will help expedite the college management faculty candidate interviews and curriculum focus groups; they will also be available to answer questions at open houses.
Inductions will be held once or twice a year with management students who meet both the 3.25 GPA requirement and demonstrate involvement in departmental activities and events.
Published: Monday, October 12, 2015
Last Updated: Thursday, October 20, 2016