News
CIS 484 Students Create a Travel System for KPMG
---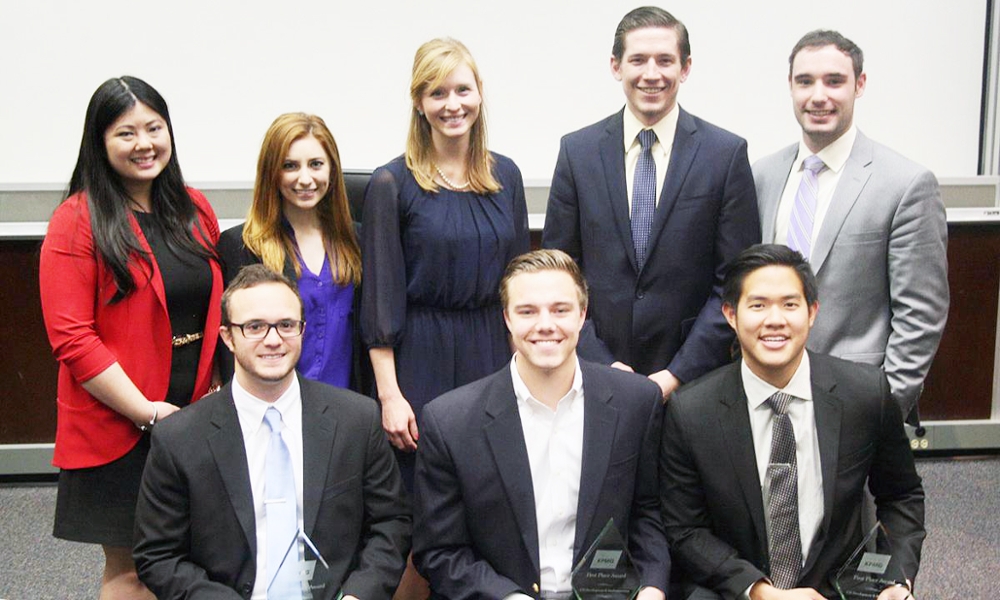 College of Business students are given many opportunities to work closely with large companies. One such opportunity occurs in the CIS 484: Information Systems Development and Implementation course taught by Mr. Carey Cole. In this capstone course, over 100 students spent the second half of the semester working with KPMG, the international audit, tax and advisory firm. The student's main point of contact at KPMG was the Campus Development Manager, Renee Tran.
 In teams of 3-5 students, the students were required to create a travel system to replace KPMG's current system including an API, which gives the site access to a live feed of travel options, and an international perspective, which means that the site would be available in at least one other language. Most of the teams' final products included live airfare, hotel, rental car, train, and weather feeds. The proposed system was to be revamped for the young business professional on the move.
On May 2, 2015, the top two student teams presented their products to a panel of 13 judges including eight faculty members (Six CIS Faculty and Marion White of the International Business department) and five representatives from KPMG, three of which were JMU CIS alumni (Danny Abatemarco, Jimmy O'Neill and Lacey Lomax), who had previously taken CIS 484, and the new KPMG recruiter at JMU, Kristina Day.  
"I like the idea now that students have come completely 360," said Cole. "They go from trying to get through the class to the one's helping people try to get through the class."
After the team presentations, the judges voted 7-6 for the first team that presented, which included Nghia Bui, Brendan Corcoran, and Jacob Horvath. Coming in at a close second was the second team that presented, which included Nick Caccese, Hailey Fleming, Chaimae Haronni and Senai Tesfagiorgi.
"It's the problem-solving and the ability to basically create something, that's the really important aspect of this," said Cole.
Zane Showker Hall, Room G5, where the competition was held, was so crowded that some audience members were standing in the back and sitting in the aisles. Students who plan to take CIS 484 next semester were required to attend the event.
"The reason I can always say that [the project] is going to be harder is because for the next group of seniors it always is harder for them," said Cole. "Even though [the project] might be at the same level complexity… [the project] is just different every time."
In the fall semester, the students' project will be to work with the Augusta County Court System and Cole will expect 30-40 students to be in the course. 
Published: Tuesday, May 12, 2015
Last Updated: Monday, September 19, 2016