News
CIS Student Daniel Roppert Named Male Scholar-Athlete of the Year
---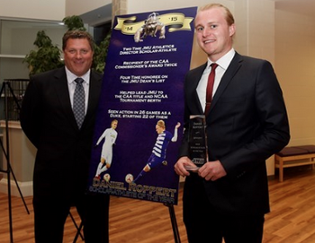 Congratulations to junior Daniel Roppert for being named the Male Scholar-Athlete of the Year. Roppert, who is from Munich, Germany, is a member of the Men's Soccer team and is an exceptional student with a 3.865 GPA. As a Computer Information Systems and a Management double major, he says that "time management and proper planning" are skills that he has acquired and become successful at during his time at James Madison University.
"The award is amazing for me, because it shows me that hard work pays off," said Roppert. "I am so grateful to go to a school that is like a family."
Roppert decided to come to JMU because he wanted "to enjoy a quality education and [to] play soccer on a high level."
To see Roppert in action, you can find him playing defense for the Men's Soccer team or wandering the halls of Showker. 
Published: Thursday, April 30, 2015
Last Updated: Thursday, October 20, 2016