News
Dr. Bill Wood Named All Together One Winner
---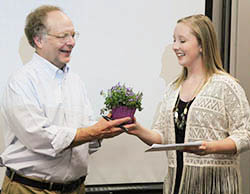 Congratulations to Dr. William Wood, Professor of Economics & Director, Center for Economic Education, for being named an All Together One Award winner!  Rachel Phillips, Omicron Delta Kappa representative, "tapped" Wood for the award during his economics class, surprising both Wood and his students. Pictured at left are Wood and Philllips.
The award is sponsored by the JMU chapter of Omicron Delta Kappa and presented to a person who "builds community, inspires others, has a caring attitude, possesses a dedication to learning, and demonstrates a commitment to working together." In short, nominees for the award embody "The JMU Way."
The All Together One award will be officially presented during a ceremony on April 14, 2015, at 12 noon on The Commons (G-S Theater if weather is inclement). At that time, all five recipients will receive a pin, a certificate, and a stone with their name and year to be placed on The Commons at JMU.
Center for Economic Education Teacher Consultant Lynne Stover nominated Wood for the award. She says, "I nominated Bill because he exemplifies all the aspects of this award. His work ethic, creativity, caring attitude, and dedication to our community merits recognition. "
She goes on to say, "As director of the Center for Economic Education, Dr. Wood has brought in millions of dollars' worth of grant money (literally) to combine with JMU resources to improve the teaching of economics in local schools, K-12."  Stover adds that Wood is well respected by his students. He gives back to the community in a variety of ways, including serving as volunteer webmaster for organizations as diverse as the Shenandoah Valley Autism Partnership, the Sadie Rose Foundation and www.excessmas.com (a site that promotes simple, non-materialistic celebrations of Christmas).
Published: Tuesday, March 31, 2015
Last Updated: Thursday, October 20, 2016