News
Student Diversity Conference Teaches Students About Diversity in the Workplace
---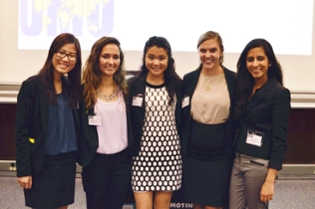 The Annual CoB Student Diversity Conference was an opportunity to meet and network with top employers while learning about the importance of diversity in the workplace. This year's conference, "Transitioning Diversity from Campus to Career," was deemed a great success. With workshops hosted by Deloitte, KPMG, Capital One, EY – students were able to choose three workshops to attend throughout the day.
Pictured from left, the Student Diversity Council members include Thao Nhu Bui (Senior CIS, Finance), Alina Clark (Senior CIS), Juo-Ying Pan (Senior CIS), Lauren McClure (Junior CIS), and Amrit Kaur (Junior Economics).
The diversity workshops included:
Deloitte - "Diversity of Thought"
Capital One - "Leveraging Presence to Authentically Connect Effectively with Others"
KPMG –"Standing Out Through Your Resume, In Person, and Interview"
EY – "Diversity Issues Affect the Workplace"
With around 60 student participants, each workshop was large enough to enable strong participation, yet intimate enough to where many students were able to speak one on one with company recruiters and employees after the workshop was over.
During the catered networking lunch, students were able to sit alongside company employees and speak informally about their careers and their experiences within the company and receive professional advice moving forward with internships and full-time jobs.
The closing speaker, Director of the Center for Multicultural Student Services Valerie Ghant, captured the audience with her energy and enthusiasm on the topic of diversity. She shared many of her personal experiences with diversity in the workplace as well as the takeaways she learned along the way.
After speaking with many participants throughout the event, Alina Clark the PR Chair for the Student Diversity Council, received positive feedback from students. The students noted that they thought the workshops were valuable towards enhancing their professional development and that they were excited for next year's conference:
"Great event…wish I had gone every year," said senior Kevin Chen. 
"I'm so glad I found this, this was such a great event," said sophomore Rangeen Al-Shebani. 
Published: Saturday, March 28, 2015
Last Updated: Thursday, October 20, 2016