News
Students Participate in ITERA Case Study Competition
---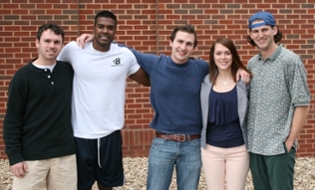 On the weekend of March 28, 2015, a JMU student team participated in the Information and Telecommunications Education and Research Association (ITERA) Case Study Competition at the Crowne Plaza Hotel in Arlington, Va. The team was named a finalist at the competition. Pictured at left are team members Steele Shemeld, Peter Episcopo, Rachel Malkin, and Quinn Bonta from the College of Business. Also pictured is Ramana Kalicheti (second from the left) who was an individual presenter who accompanied the case study competition team to the conference. 
The Case Study Competition "is the culmination of several months of effort by student participants who are presented with a telecommunications case that requires them to combine their technical knowledge and problem-solving expertise to craft a solution to meet a fictional client's needs." The students were required to submit a written response and if they were named finalists they had to present in front of a second panel of judges.
Kalicheti presented a research paper from his CIS 320 course at the competition. He co-wrote the research paper with Daniel Roppert, Luke Burris, and Dominic Savoia.
Congratulations to all of the students who participated in the ITERA Case Study Competition!
Published: Saturday, March 28, 2015
Last Updated: Thursday, October 20, 2016