News
Marketing Students Attend K2M Global Sales Meeting
---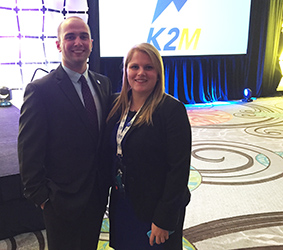 During the weekend of January 23, 2015, senior marketing majors Joseph Straub and Ashley Yelverton were accompanied by marketing professor Dr. Joe Derby to the K2M Global Sales Meeting in Orlando, Fla.  K2M develops and markets technology products that enable surgeons to more effectively treat the world's most complex spinal disorders. K2M CEO Eric Major is a James Madison University alumnus and a member of the Board of Advisors for College of Business.  Major's invitation allowed the marketing students a window into the sales and marketing issues faced at a fast growing medical technology company.  
Their weekend began Friday night at K2M's Internal Product Fair where product development teams displayed a variety of new spinal technologies to the company's sales professionals. The students learned about various K2M surgical implant devices and tools – how they are designed, work, and sold – directly from the product design, development, and sales teams.  The Product Fair demonstrations facilitated student networking with K2M employees, with many from the corporate headquarters being JMU alumni.
On Saturday the JMU students attended several presentations by world-renowned surgeons made to the salesforce.  Much of the presentations were to provide salespeople guidance about what is important, in terms of knowledge, skills, and relationships, for selling medical devices in the operating room environment. 
"I learned a lot about how their products help surgeons help people," said Yelverton.
The day ended with a banquet dinner and awards ceremony to recognize K2M's top sales offices and salespeople for exceptional 2014 performance, with sales growth the key performance metric.
The Global Sales Meeting concluded Sunday morning with a press conference style meeting where the next year's products and goals were discussed. 
"I thought [going to the Meeting] was really great for Joe and I because we both have a sales concentration and just to see how competitive the environment is within a company… and see how they celebrate and motivate their sales people," said Yelverton. "I thought it was brilliant."
Both Yelverton and Straub are considering applying for jobs at K2M after graduation (Yelverton in marketing and Straub in sales) largely because of the nature of the products being sold.
"This isn't just a big money player, this is a company that's growing fast for the right reasons," said Straub, a marketing and ISAT double major.
The students were also invited to visit K2M's main office in Leesburg, Va. later this semester to learn more about how the company provides resources and training for its salesforce.
The Marketing Department and the students thank Eric Major and the K2M employees for allowing them to attend the Global Sales Meeting and making them feel so welcome. Straub and Yelverton hope JMU marketing students have the same opportunity next year!
Published: Monday, February 23, 2015
Last Updated: Thursday, October 20, 2016