News
Second Annual Women in Leadership Conference Successful
---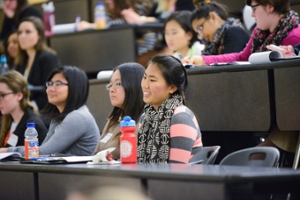 Be kind. Be confident. Be honest. Get over it. Successful female role models shared these words of encouragement with attendees at the Second Annual Women in Leadership Conference.  
On Saturday, January 31, the conference welcomed 150 attendees and featured 11 guest speakers.  
JMU's First Lady Mary Ann Alger welcomed the attendees.
"No matter how many details you hang on to from today's speakers, the one thing that's really important is that you go away today feeling supported," said Alger. "You do have a whole lot of wonderful people, particularly wonderful women, who are available to help you and consult with you."
Speakers for the day included JMU alumni Virginia Coles, Principal at Zenzu; Bethany Clark, Director of Global Customer Engagement and Community at  TOMS; Hilary Mann, Actress; Chiquita King, Senior Consultant at Booz Allen Hamilton; and Gwendolyn Brantley, Partner Account Manager at Cisco Systems.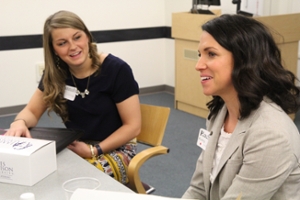 Though the conference focused on female students transitioning from college to career, many of the speakers gave life advice as well. While discussing how to find your passions in life and how to land your dream job, Clark suggested that the attendees answer the following questions:
  
              "Who are you?
                What do you want?
                What conflicts will you need to get past?
                How will you get to [want you want]?"
Lunch consisted of small group discussions covering such topics as social media, the value of internships, and work-family balance.
Philanthropist Heather Hart keynoted the after lunch session with stories of California Pizza Kitchen's (CPK) philanthropic outreach activities, focusing on Inspired Acts, which is an opportunity for CPK employees to serve the communities around them through fundraisers and community service projects.
Panelists for the afternoon included alumni April Armstrong, CEO of AHA Insight;  Megan Bazzle, Bazzle's Bakery owner; Lucy Hutchinson, Executive Recruiter at Capitol One; and Rachael Roehrig, Senior Scientific Executive at 3D Communications (pictured above).
Attendees gave the Second Annual Women in Leadership conference high marks. Plans are already underway for the Third Annual Women in Leadership Conference.
Many thanks to the following sponsors who made this day possible:
Virginia Business and Professional Women's Foundation for the Distinguished Speakers Series on Women and Leadership
Published: Thursday, February 5, 2015
Last Updated: Thursday, October 20, 2016