News
Management Consulting Class Presents Recommendations
---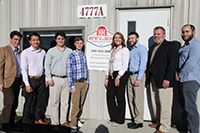 Fifteen students from Marshall Pattie's management consulting class presented their final projects to their clients during the last week of the semester.  Clients included: Ntelos, Second Home, and Byler Barns & Backyards.
The Ntelos project was to design a project management training with an emphasis on management skills.  Tonia Garmin, head of training, was very pleased with the suggestions and will be using the training with a few changes.   Second Home is an after school program in Harrisonburg. The students designed a 5K run, a carnival, and a dinner fundraiser for Second Home.
The Byler Barns team included Sam Agnew, Kevin Connors, Danny Ho, Liz Reut, and Jesse Trent. This team took a look at production efficiencies at the company. The management team was trying to decide whether to expand the production facility.
One of the team's suggestions was to rent a trailer to use for office space, and to turn the office space into additional production space. The team also provided suggestions on how to even out the production cycles. They also suggested that employees undergo cross functional training, so they could be more efficient, even during slow production cycles.
The company representatives appreciated the team's advice. "You've given us more data. We've been talking about making changes, but now we have some real data to use during our decision making."
Team Member Jesse Trent is starting a job with CSC after he graduates. He says, "The real world, practical experience in class allowed me to demonstrate what I learned in college," helping me to get this job. He adds, "Professional Pattie was truly my mentor; he went out of his way to help me. He saw my potential and really pushed me."
Published: Tuesday, December 16, 2014
Last Updated: Wednesday, June 8, 2016