News
PSE Hosts the Atlantic Regional Conference
---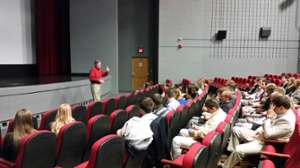 On the weekend of November 7-8, the Delta Rho chapter of Pi Sigma Epsilon (PSE) hosted the 2014 Atlantic Regional Competition. PSE, "the only national, co-ed, professional fraternity in marketing, sales management, and selling," welcomed over 50 participants from The Citadel, UNCW, Appalachian State University, Virginia Tech, and Radford University.
After all the guests arrived on Friday, B2B Marketing firm Vorsight presented a sales workshop. Following the workshop, the Conference Committee, led by senior Management major Sarah Medve hosted a career fair, with seven vendors; vendors included State Farm, Citrix, Vorsight, Multiview, and Front Pont Security. Multiview then sponsored a Pro-Am marketing competition. Participants were given a product that they had to market; next the participants had to speak for 5-8 minutes on a topic that they were passionate about. At the end of the day, the JMU PSE hosted a social event at BackCountry that was said to be "a huge hit" by PSE President and Marketing major Reagan Lashlee.
On Saturday, the day started out with a speech from the keynote speaker Marketing Professor Stephen Hertzenberg, who spoke more about life and marketing.
The next and last competitive event was a mock Shark Tank event where the participants had to create and pitch a new idea for a product to a panel of judges. Judges included the Director of the Marketing Department Dr. Andy Wood and representatives from the Pi Sigma Epsilon National Headquarters, Marcie Mackowski and Ann Devine.
The Conference ended with a banquet and award ceremony in the suite level of Bridgeforth Stadium. Two participants from the CoB, Mitchell Meyers and Taylor Schwarting were on the winning Marketing team.
Marketing Professor Dr. Joe Derby also saw the Conference as a networking opportunity for the participants.
"Different companies came here, one being Citrix, who wouldn't have come here or had never come to JMU before," said Derby. "But, they were very impressed with the university and the students. It allows us some good regional exposure."
He also adds that the Conference showed companies the unique experiential learning events that the CoB is participating in.
Derby and Lashlee plan on sending a few PSE members to the National PSE Conference in Houston, Texas, in April, giving more CoB students an opportunity for experiential learning.  
Published: Thursday, November 20, 2014
Last Updated: Wednesday, August 10, 2016