College of Business
CoB Alumnus Derek Sprague Inducted into School of Hospitality, Sports and Recreation Management Hall of Fame
---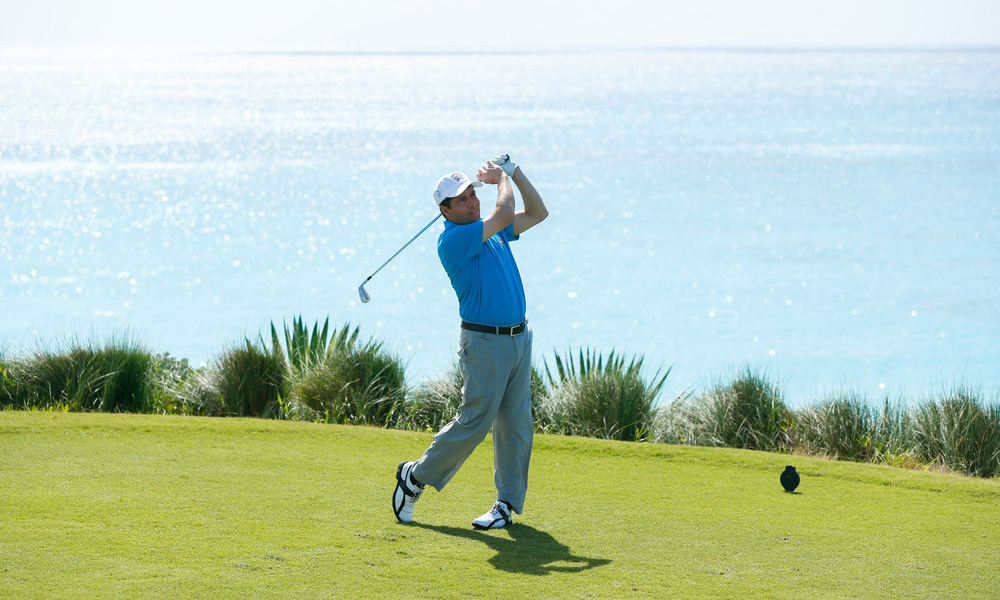 Looking forward to playing golf year round, Hall of Fame Inductee Derek Sprague accepted a golf scholarship and headed south to James Madison University in 1985. That year, the snow fell heavily, totaling 44" for the season. Sprague laughingly recalls, "I got duped into coming."
In spite of the snowy start, Sprague did manage to play many rounds of golf during his college years. A marketing major, he says, "I love connecting with customers and coming up with solutions that customers want."
Sprague fondly recalls his JMU days, "Every instructor wasn't focused on only one subject; they would challenge you to do more, to do better. When I wrote a paper or did a project, it seemed the instructors had the same philosophy - that you could always do better. They would push you to do your best work, not just the minimum. They always had you reaching for greater heights in your work."
He adds, "The professors would give you as much time as needed, whether on a school subject or life lessons. College is more than a subject or major; it's learning about life and work at a critical time in our lives; we need the experiences of those individuals. I am still friends with a few of my professors, who have continued to advise me in my career."
Life Ambition
Sprague grew up playing golf and working at the Malone Golf Club in his hometown of Malone, N.Y. He says, "I grew up on the 1st hole of the east golf course, and now I live on the 4th hole of the west course."
He adds, "My life ambition was to work in the golf industry; most Professional Golf Association (PGA) professionals who work at golf facilities want to play on the PGA tour. As you play in regional events and college or national events, it become obvious that an elite few move on to the PGA tour.
"I shifted my focus in high school. I worked at my home golf club and when I went to college, I focused on taking the love of golf and combining it with a marketing degree."
Sprague was intently focused on his goal throughout his college days; in fact, he graduated in 3 ½ years. He explains that graduating early was really a timing issue for him. "I knew the board of directors wasn't happy with its golf professional and the board was considering a change. I buckled down, even giving up my partial golf sponsorship during my last 3 semesters at JMU. I was taking 21 credit hours per semester, plus an independent study during the summer with Dr. Teer. I graduated in December 1988, and started my new position two weeks after graduation." He adds, "Timing is everything."
He recalls a particularly challenging time early in his career, when the course was expanding and losing money, and creditors weren't happy. The board of directors assured the bankers that it had recently hired a new hot shot manager, who could get the course on the right track. Sprague was invited to the meeting with the bankers, and was asked to wear a jacket and tie.
Sprague obliged, and walked into the conference room and sat down. All was quiet until a banker asked, "Where is this great new manager?" They were shocked to learn that the 21-year-old Sprague was going to dig the course out of the mess, and move it on to success. He says, "We were facing bankruptcy; I was facing outraged bankers. I loved it, I reveled in it, and I thought to myself 'I'll show you.'"
True to his word, Sprague turned the golf course around, so it is highly successful today.
Elected President of the PGA
Sprague will take over the reins as president of the PGA on November 22. He says, "We are going to be laser focused on the long term strategic plan to serve our members and grow the game of golf. We will work with the board of directors and staff to execute that long term strategic plan."
On being named president, he says, "It's a great honor and responsibility. The PGA is the largest working sports organization in the world." He also notes that his golf game is the best it's been in 4 or 5 years. "When you play with golfers like Tom Watson, Andy North, and Jim Furyk, your game has to improve."
Induction into SHSRM Hall of Fame
Sprague will be inducted into the SHSRM Hall of Fame on November 14, 2014. He says, "I feel humbled and honored by this."
SHSRM Director Dr. Michael O'Fallon says, "Derek has had a successful career in the golf industry and has made a positive impact on many individuals lives. He is a natural leader who has progressed quickly throughout his career. Derek is a positive role model for our students, particularly those looking for a career in this industry. We are very proud, and honored, to induct Derek into the School of Hospitality, Sport and Recreation Management Hall of Fame."
Sprague and his wife, Jennifer, have two children, daughter Alexandra and son Davis.
SHSRM Hall of Fame
The Hall of Fame award is given to an elite group of individuals who have made a significant, and positive, impact on the School of Hospitality, Sport and Recreation Management, faculty, and students alike. It is given to an alum of the Hospitality Management program, Sport and Recreation Management program, or College of Business. The past recipients of the award include: G.J. Hart (2012), Robert Reid (2012), and Amy McPherson (2013).
Published: Tuesday, November 11, 2014
Last Updated: Monday, November 7, 2016